Aubergines confit with olive oil and greek vegetables
For 4 people - Preparation time: 45 minutes - Cooking time : 1 hour
Image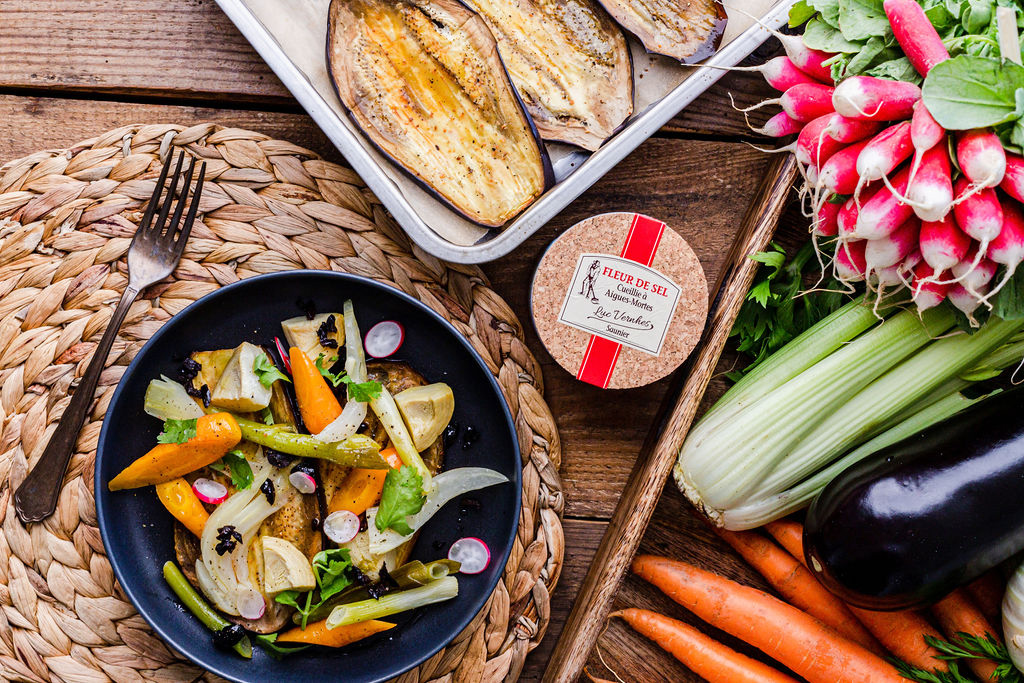 Ingredients :
Aubergine confit:
2 aubergines, cut into 1 cm slices

2 tbsp olive oil

1 pinch of garlic powder, 1 pinch of pepper and 1 pinch of La Baleine fine salt
Greek vegetables:
4 carrots, cut into 2 cm slices

4 frozen artichoke bases cut in 4 

1 fennel bulb, cut into 2 cm slices

8 scallions cut in 4

A drizzle of olive oil
Stock:
30cl dry white wine

80 cl of water

1 tsp coriander seeds 

1 slice of untreated lemon

3 g La Baleine coarse salt
Garnish:
A few radishes, cut into thin slices

Some black olives 

Some fresh coriander leaves

LSDC fleur de sel
Instructions :
❶ Prepare the aubergine confit: Preheat the oven to 180°C. Put the aubergine slices on a plate covered with baking paper and brush with olive oil. Season with La Baleine fine salt, pepper and garlic powder. Cover with aluminium foil and bake for 45 minutes. Aubergines must be soft and tender. Leave to cool slightly.
❷ Prepare stock: Bring water, wine and coriander seeds to a boil. Boil for 5 minutes to evaporate the alcohol, then add a slice of lemon. Season with La Baleine coarse salt.
❸ Prepare vegetables: Plunge carrots, artichoke bases, scallions and fennel into broth. Boil for 15 to 20 minutes. Drain the vegetables and cool in the refrigerator with a dash of olive oil.
❹ Arrange a slice of aubergine confit on each plate, then arrange Greek-style vegetables on top. Sprinkle with fresh coriander, a few slices of radish and black olives and Le Saunier de Camargue Fleur de Sel.