Caramel Macarons with Fleur de sel
This recipe was developped by Le Saunier de Camargue in collaboration with Dan Bessoudo, French Michelin-starred chef.
Image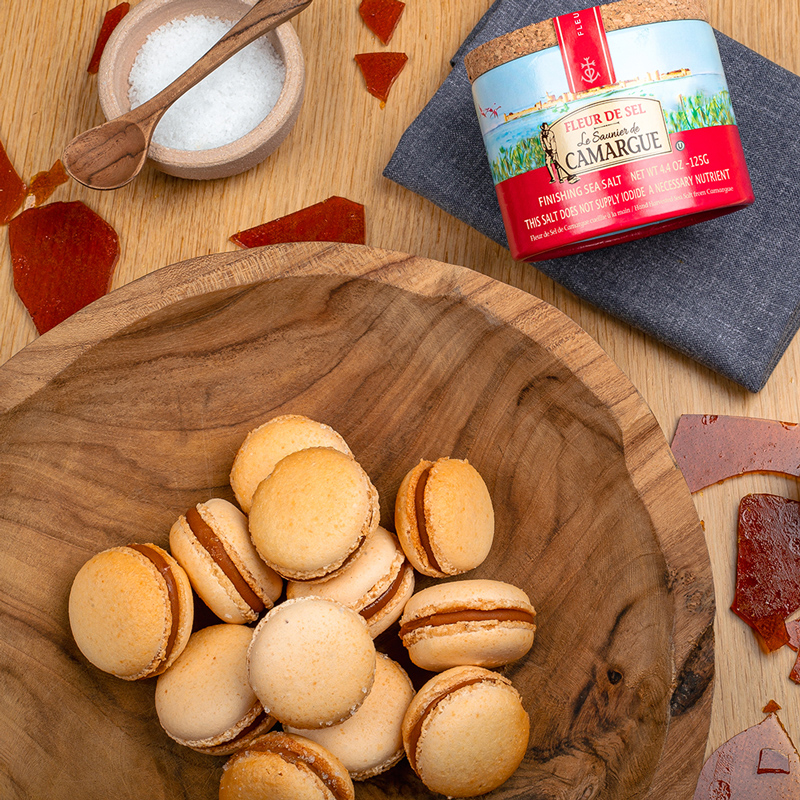 Ingredients :
Macaron batter :
- 250 g de icing sugar
- 250 g sifted almond powder
- 100 g egg whites
Meringue :
- 225 g sugar
- 60 g water
- 80 g egg whites
Soft caramel :
- 320 g de extra-fine sugar
- 320 g de cream (35% fat)
- 250 g un salted butter
- 10 g Le Saunier de Camargue Fleur de Sel
Instructions :
1) Use a food processor to blend the icing sugar and almond powder into a fine powder.
Mix the powder with a flat beater in a bowl. Keep mixing as you add the egg whites.
Set the mixture aside and make the meringue.
2) Whip the egg whites with a whisk beater.
Heat the sugar and water to 121°C.
Pour that syrup over the egg whites while continuing to whisk.
Keep whisking until you reach 40°C.
3) Use the flat beater to mix the two preparations until uniformly blended.
4) Pour that mixture into a round-bottomed mixing bowl, and then use a silicone spatula to fold the batter.
Your batter is ready when the mixture is shiny and falls in a ribbon.
5) Arrange your macaron shells on a tray covered with a baking mat.
Let them dry at room temperature for at least 20 minutes before baking.
Pre-heat your oven to 155°C and bake for 15 minutes.
6) Melt and whisk the sugar into caramel.
Lower the temperature by stirring in the boiling cream and fleur de sel.
Cook until the caramel reaches 108°C.
7) Then,mix in the butter cut into cubes.
Refrigerate for 2 hours.
8) Fill the macaron shells with the soft caramel.
Sprinkle a few Le Saunier de Camargue Fleur de Sel crystals on the exposed parts of the soft caramel.