Caramelized onion tart
Prep time: 10 minutes   Cook time: 80-90 minutes  Serves: 6-8
Image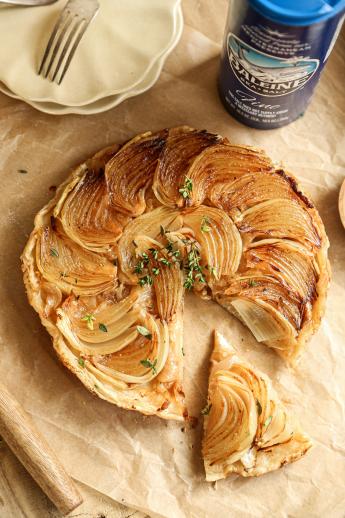 Image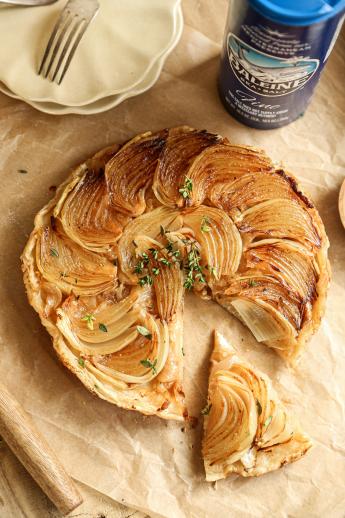 Ingredients: 
4 medium-size onions
4 tablespoons unsalted butter
2 tablespoons (about 2 sprigs) fresh thyme
½ teaspoon La Baleine Fine Sea Salt 
1 teaspoon fresh ground black pepper
1 sheet frozen puff pastry, thawed to room temperature (you can also use pie dough)
¼ cup goat cheese
Instructions :
Using a sharp knife, trim the ends of the onions and remove skin. For two of the onions, trim the scraggly end of the root, while keeping the light-colored part intact (this will help keep the onion wedges together when slicing). Slice in half, then cut each half into 4 wedges, for a total of 16 wedges between the two onions. Set aside. Thinly slice the remaining two onions.
Place a 10-inch oven safe skillet or cast iron pan on a medium-heat burner and melt 2 tablespoons butter. Once melted, add the thinly sliced onions. 
Cook the onions until they start to caramelize. Then mix in the thyme, salt and pepper. Turn the heat to medium-low and continue cooking until the onions are translucent and completely caramelized, about 35-45 minutes.
While the onions caramelize, on a lightly floured surface or piece of parchment paper for easy transfer, use a rolling pin to gently roll out the puff pastry until it's big enough to cut a 10-inch round. Working around the edge, fold about 1/2 inch of dough over itself and pinch to create 9-inch round with raised rim. Poke the dough with a fork, then transfer to the refrigerator until ready to use.
Once the onions are caramelized, preheat oven to 400 degrees. Transfer the caramelized onions to a separate dish. Then place the skillet back on a medium-low burner and add the remaining 2 tablespoons of butter. Once it's melted, carefully arrange the onion wedges in a circular pattern around the skillet. Turn the burner to medium-high and cook the wedges, without stirring, until they begin to soften, about 6-8 minutes. Remove from heat. Spoon on the caramelized onions, tucking them in-between, around and on top of the wedges. Sprinkle with goat cheese. Then top with the puff pastry, raised rim side down, slightly pressing it into and around the onions, being careful that it doesn't touch the sides of the pan.
Transfer the skillet to the oven and bake until the crust is deep golden brown, about 30-35 minutes. Remove and place on a baking rack to cool for about 5-10 minutes.
Place a large serving dish over the skillet, carefully flip the tart onto the plate, then slide the tart onto the baking rack. Rearrange any onions pieces that may have shifted during unmolding, and let tart cool a bit longer. Cut into wedges, sprinkle with additional fresh thyme and salt and pepper, as needed, and serve.