Carrot Soup
Image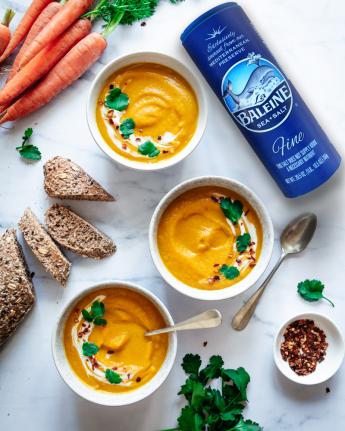 Image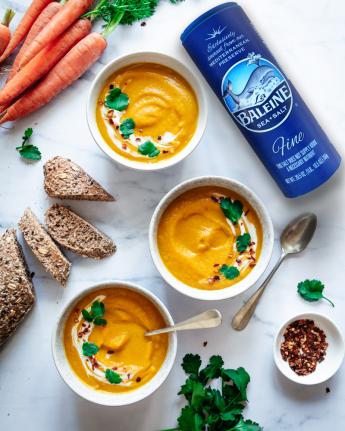 Ingredients:
750g carrots

1 red onion

3 cm ginger in slices (peeled) 

2 tablespoons olive oil

2 garlic cloves (pressed)

2 teaspoons cumin

3 teaspoons curry

½ teaspoon turmeric

750ml water

1 vegetable stock cube

200ml coconut milk

Salt and pepper from La Baleine
For garnish: extra coconut milk, fresh parsley and/or chilli flakes
Preparation
Grate the carrots and cut into pieces.
 Spread out on a baking tray together with the chopped red onion and ginger.
Then add in the olive oil, garlic and herbs.
Put the baking tray in the oven for 15-20 minutes.
Then put the grilled vegetables into a large saucepan with the water and crumble a stock cube over them.
Bring to the boil and leave to simmer on a low heat for 10 minutes.
Puree the soup smoothly with an immersion blender, add the coconut milk and season further with salt and pepper from La Baleine. Garnish to taste with coconut cream, some fresh parsley and/or chilli flakes.