Cheddar and Broccoli hand pies
Created by: Das Knusperstübchen
 
Image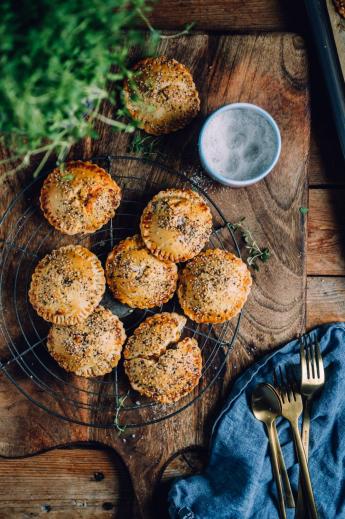 Ingredients for 8-10 hand pies
For the dough:
300 grams of flour
1 tsp fleur de sel
150 grams of butter
1 tbsp crème fraîche
1 pinch cayenne pepper
1 pinch pepper
For the filling:
2 tbsp olive oil
1 onion
1 clove of garlic
150g broccoli
2-3 carrots
100 grams of cream cheese
100g cheddar
1 tbsp parsley
½ tsp cayenne pepper
½ tsp paprika powder
1 tsp pepper
½ tsp fleur de sel
1 pinch nutmeg
Besides that:
1 egg yolk
2 Table spoons of milk
1 tbsp sesame
1 tsp organic
1 tsp fleur de sel
½ tsp black pepper
Image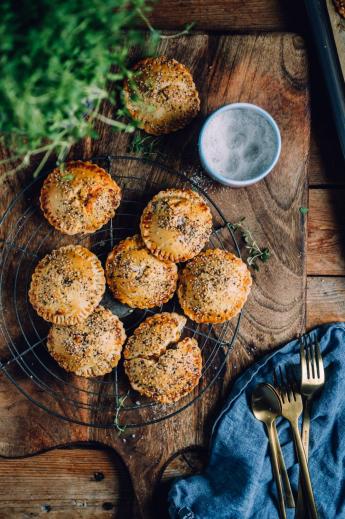 Instructions :
First prepare the filling. Finely chop the broccoli, carrots, onions and garlic. Sweat onions and garlic in olive oil. Add carrots and broccoli. Put everything in a bowl. Mix together the remaining ingredients for the filling and set aside.
Put all the ingredients for the dough in a bowl. Knead everything well. Roll out thinly, cut out small circles with a diameter of approx. 10 cm. Put the filling in the middle and place a second circle of dough on top of the filling. Press the edges. Press down with a fork.
Whisk together the egg yolk and milk and brush the pies with it.
Mix sesame, oregano, salt and pepper and brush the pies with it.
Preheat the oven to 180°C and bake the pies for 20-25 minutes until golden brown.