Chicken Piccata with Lemon Scented Broccolini
Servings 4 - Prep Time:  15 - Cook Time: 30
Image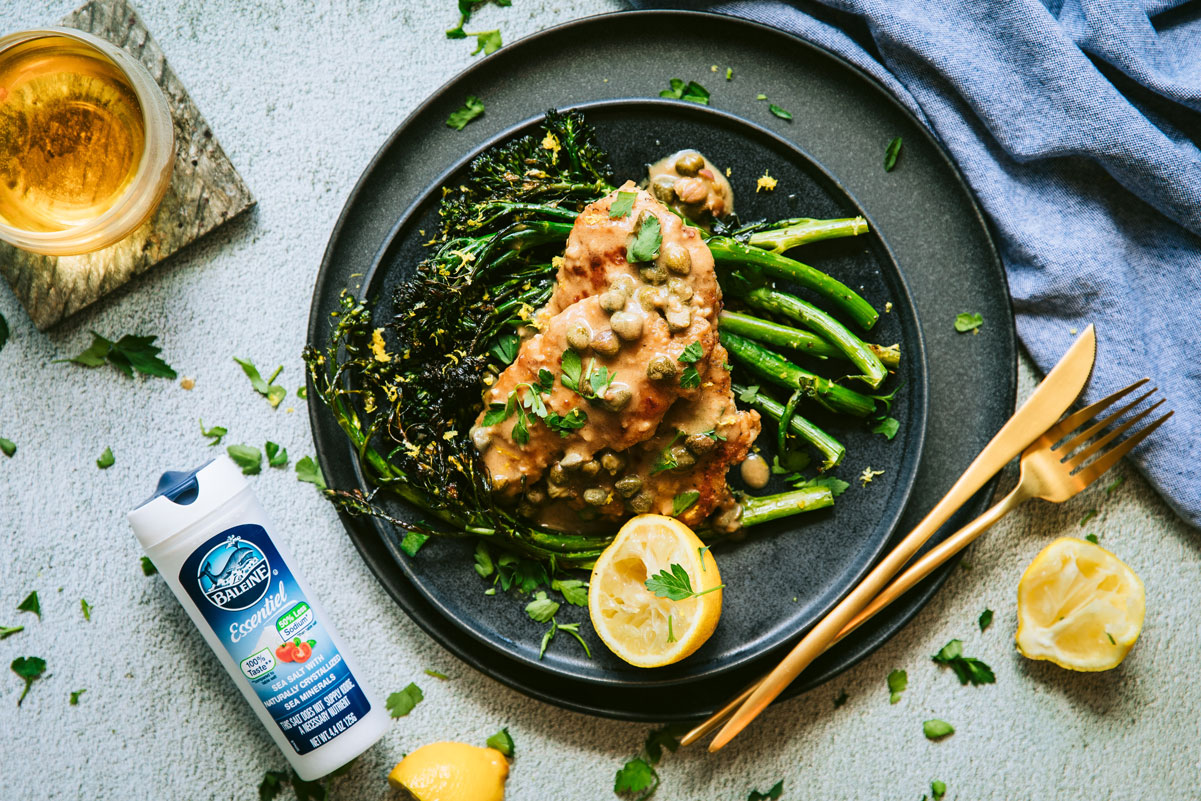 Ingredients :
Chicken 
4 (3oz) Chicken Breasts
1 Tbs of La Baleine Essentiel Sea Salt
black pepper to taste
1/2 cup of flour for dredging
1/4 cup of oil for frying
Broccolini
2 bunches of Broccolini
1 Tbsp olive oil
1/2 Tbs of La Baleine Essentiel Sea Salt
black pepper to taste
1 Tbsp lemon zest
Piccata Sauce
2 cloves of garlic crushed or minced
1 Tbsp flour
1/2 cup dry white wine
1 cup chicken stock
Juice of one lemon
1/4 cup heavy cream
2 Tbsp of capers
Instructions :
Preheat oven to 400˙ F.
Cut an inch off the broccolini stems and arrange flat on a large baking sheet—drizzle olive oil over the broccolini and season with 1 Tbs of La Baleine Essentiel Sea Salt and black pepper. Using your hands, blend and massage the seasoning and oil coating the broccolini evenly and set aside.
On a large plate or platter, add one cup of flour and set aside.
Next, rinse your chicken breast in cold water and pat dry.
Take two pieces of plastic wrap and place one chicken breast in between. Using the smooth side of a kitchen mallet, pound the chicken evenly until it is about 1/4 inch thick. Season each chicken breast with La Baleine Essentiel Sea Salt and black pepper and set aside. Repeat for each chicken breast. 
Next, begin heating a large skillet on medium heat with 1/4 cup of oil. While the pan is heating, Place the broccolini in the oven for 15-20 minutes.
Dredge each chicken breast in flour. Be sure to knock off any excess flour before laying the chicken in the frying pan.
Cook each breast (smooth side down) first for 3-4 minutes on each side or until golden brown. Once all pieces are cooked, set the chicken aside, keep warm, remove the pan from the heat, and begin working on the Piccata sauce.
Remove the broccolini from the oven, add 1 Tbsp of lemon zest, keep warm, and set aside.
Piccata Sauce:
The pan should have about 1 tbsp of oil remaining. If you have more, pour off the excess until the proper amount remains or add more oil if it is too little in the pan.
With the fire still off, add the minced garlic and cook until fragrant for about 30 seconds. 
Next, add the 1 Tbsp flour and return the pan to medium heat. Toast flour for 30 seconds.
Carefully add 1/2 cup wine and scrape up all of the bits still left in the pan. Let the wine reduce by half, and then add 1 cup chicken stock and reduce heat to medium-low. 
Allow the sauce to reduce (about 3 minutes) and add the juice of 1 lemon and slowly mix. 
As the sauce begins to reduce once more, add the heavy cream and stir for about 2-3 minutes.
Remove from heat and add 2 Tbs of capers, more La Baleine Essentiel Sea Salt, and pepper to taste. 
Add chicken to the pan and coat evenly in sauce, and serve immediately over roasted broccolini.