Citrus marinated salmon
4 servings - Preparation: 30 min + (1h15 resting)
Image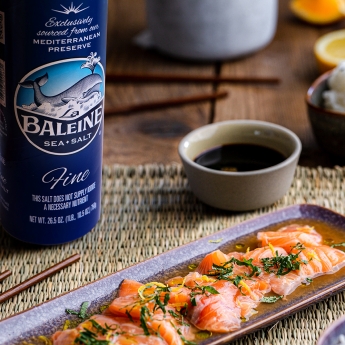 Image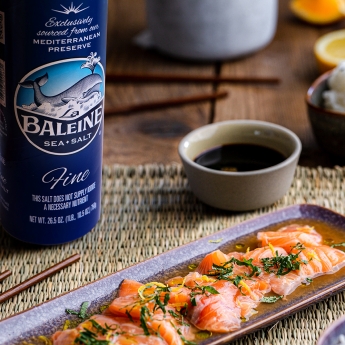 For the citrus salmon:
2 salmon fillets
½ grapefruit, squeezed
½ orange, squeezed
1 lemon, squeezed
½ bunch of chopped coriander 
½ bunch of chopped mint
12 tablespoon Fine salt La Baleine
For the vinegar rice:
1 cup rice
3 tablespoon rice vinegar
½ tablespoon fine sea salt La Baleine
1 tablespoon sugar
1 tablespoon water
Instructions :
Salmon preparation: cut the salmon fillets at ½ inch thick. In a bowl, place the salmon slices and cover it with La Baleine fine sea salt. Let it rest in the fridge for 15 minutes. Meanwhile, mix all the citrus juices together.  Rinse the salmon, place it in the juices mix and let it marinate for an hour.

Rice preparation: in a sieve, rinse the rice with running water then drain the water off. Place the rice in a pot and add water until just above the rice. Bring it to the boil. Let it cook covered on a medium heat for 12 minutes.

Rice seasoning preparation: in a glass, stir the rice vinegar, the sugar and the La Baleine sea salt. Let it rest for 5 minutes until sugar is entirely dissolved. Poor the seasoning into the cooked rice and mix carefully.

Serve the salmon with a bit of marinade and the rice on the side.
Image