Citrus + Spice dry-brined Turkey
Prep time: 20 minutes  Cook time: 3-3 ½ hours Serves: 10
Image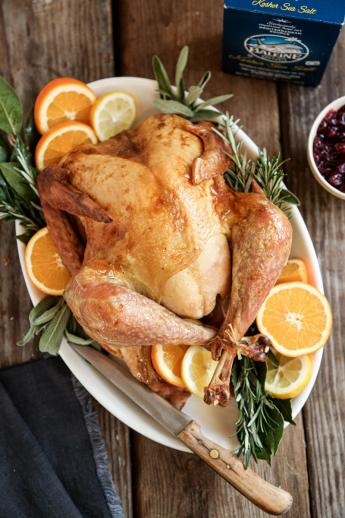 Image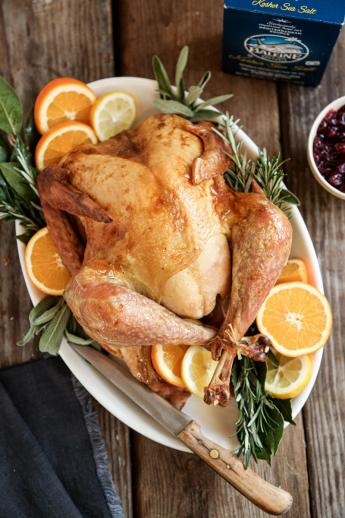 Ingredients: 
⅓ cup La Baleine Kosher Salt
3 tablespoons granulated sugar
Zest of 1 lemon and 1 orange
2 tablespoons black peppercorns
1 tablespoon fennel seeds
4 bay leaves
1 (13-15 pound) turkey, rinsed and patted dry
½ cup unsalted butter, softened
To garnish: orange and lemon slices or wedges + fresh herbs such as thyme, sage, rosemary and bay leaves
Instructions :
Image
To a medium-sized bowl add the La Baleine Kosher Salt, sugar and citrus zests. Set aside.
Add the peppercorns, fennel seeds and bay leaves to a spice grinder, or mortar and pestle, and roughly crush the spices. Add to the salt mixture and stir to combine.
Rub the mixture all over the bird, even getting some in the cavity. Place on a baking dish or baking tray (something with an edge as juices will release as it's brining) and then place in the refrigerator, uncovered, overnight, for at least 8 hours and up to 24 hours.
Preheat the oven to 450 degrees.
Rinse the dry brine off the turkey under cold running water. Then pat dry. 
Rub the softened butter all over the turkey, making sure to get some under the skin. Next, tuck the wings and truss the legs. Then place the turkey on a rack set in a roasting pan. 
Roast for 30 minutes, then reduce the temperature to 325 degrees and loosely tent the bird with aluminum foil.
Continue roasting for about 2 ½-3 hours, or roughly 15 minutes per pound. Remove the foil about 45 minutes before it's done and start checking for doneness. The turkey is done when a meat thermometer inserted into the thickest  part of the thigh (without touching bone) reads 165 degrees.
Allow the turkey to rest for 30 minutes before carving. Garnish with citrus slices and fresh herbs and serve.
Image