Easy Chocolate Brownie with Salted Caramel
Image
Ingredients:
12 oz Dark Chocolate Chips (You can use bars too)
3 Eggs
1 cup Brown Sugar
½ cups All purpose flour
2 Tablespoons Cocoa Flour
1 Tablespoon Instant Coffee Powder
½ teaspoon Baking powder
2 teaspoon Le Saunier de Camargue Fleur de Sel ( 1 teaspoon goes in the batter and the rest gets sprinkled on top along with salted caramel)
Image
Image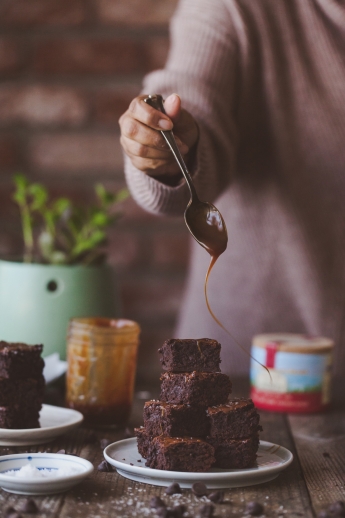 Image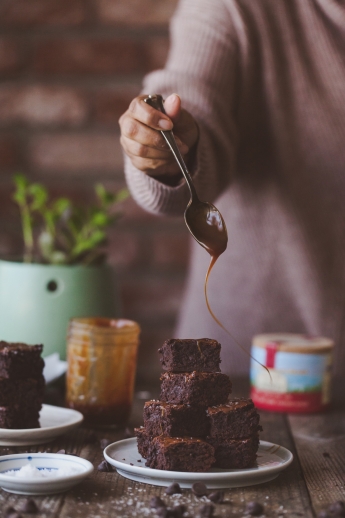 DIRECTIONS:
Preheat the oven to 350 F
Spray 9 by 9 inch brownie pan with oil and layer parchment paper.
In a microwavable bowl, add the butter and chocolate and microwave it for 30 seconds. Give a mix, and microwave for another 30 seconds, mix and repeat for another 30 seconds. Give a mix to combine it to a shiny melted chocolate.
To a separate bowl, whisk egg with sugar and then to the bowl add the melted chocolate mixer.
Next sift the flour, cocoa powder, instant coffee powder and baking powder to the egg and chocolate mixture.
Then, instead of whisking, fold the dry ingredients.
Add the sea salt and mix once again.
Pour the batter to the prepared pan and bake for 25 to 30 minutes. Do not over bake or else it will lose its fudgy texture.
Let it cool for 5 minutes then slice into bite size. For the best, neat slices, dip the knife in hot water and then wipe it clean before you slice. Do this at every few slices.
Drizzle with salted caramel and drizzle extra sea salt on top.