Easy Coconut Ginger Shrimp Curry Recipe
yield: 2 - 4 - prep time: 15 MINUTES - cook time: 20 MINUTES - total time: 35 MINUTES
Image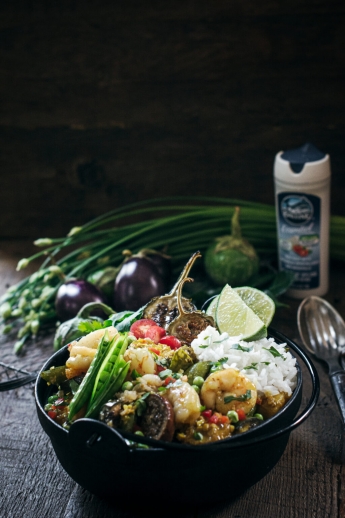 Image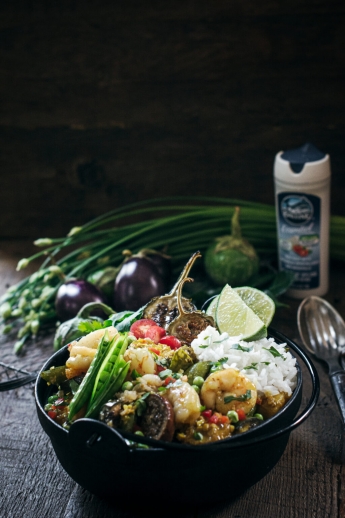 Ingredients :
1 tablespoon vegetable oil
1 medium onion, diced
1 - 2 chile peppers, finely diced
3 - 4 cloves of garlic, minced
1(2 inch) piece of fresh ginger, peeled and minced
1/2 lemongrass stalk, finely diced
4 lime leaves (or the zest of 1 lime)
10 ounces fresh or frozen raw large or jumbo shrimp, peeled, deveined and tails off
5.4 ounces Coconut Cream
1/2 cup water or vegetable stock
1 teaspoon ground cumin
1 teaspoon ground coriander
1 teaspoon ground turmeric
La Beleine Essentiel Sea Salt, to taste
Black pepper, to taste
1 cup sliced or diced eggplant (I prefer Thai eggplant)
1 cup sugar snap beans or green beans
Cilantro, to garnish
Lime wedges, to garnish
Jasmine rice
Instructions
Finely dice the onion, chile pepper, and lemongrass stalk. Mince the garlic cloves and peeled ginger.
In a large saucepan over medium heat, add the oil. Once the oil is hot, sauté the onion, chile pepper, garlic, ginger, lemongrass and lime leaves (or lime zest) and cook for about 4 to 5 minutes, or just until soft.
Add in the shrimp, diced eggplant and beans, coconut cream and water (or vegetable stock) to the pan, then allow to simmer, cooking for about 5 - 8 minutes, or until the shrimp have been cooked through and the vegetables are fork-tender.
Season to taste with black pepper and La Beleine Essentiels Sea Salt.
Serve over a bed of jasmine rice and garnish with fresh cilantro and lime wedges.