Garlic & Herb Crusted Roast Turkey Breast
Serves 4-6   Prep Time 30 minutes   Cook Time 45 minutes
Image
Ingredients :
For the turkey
2-2 1/2 pound bone-in turkey breast (1/2 of a whole turkey breast)
⅓ cup La Baleine Kosher Sea Salt
1 teaspoon ground allspice
1 teaspoon paprika
1 teaspoon ground black pepper
½ teaspoon nutmeg
14 cloves garlic, peeled and minced
⅓ cup chopped fresh parsley
½ cup extra virgin olive oil
8 small shallots, peeled and halved
7 celery stalks, cut into large pieces
For the grapes
1 pound seedless red grapes
Virgin olive oil
La Baleine Kosher Sea Salt
Image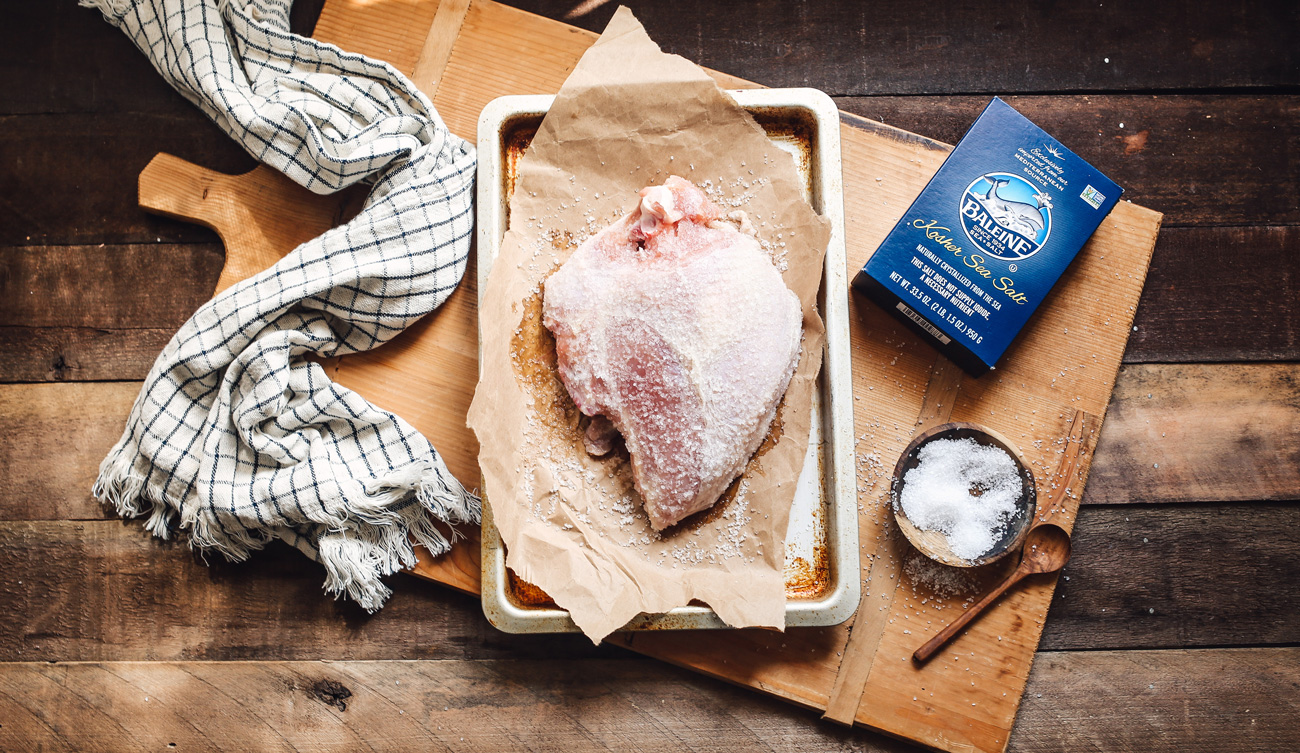 Instructions
Pat turkey dry and generously coat with the kosher sea  salt on both sides (be sure to carefully lift the skin up and season with kosher sea salt underneath as well.) Chill turkey in the fridge uncovered for at least 2 hours (or overnight.) If you're short on time, you can also set it  aside at room temperature for 30 minutes.
If you have chilled the turkey, take it out and set it aside at room temperature while you work on prepping the rest of the ingredients.
Preheat the oven to 450 degrees. Add grapes to a large cast iron skillet (or you can also use a large baking pan). Drizzle generously with olive oil and a good sprinkle of kosher sea salt. Roast in a preheated oven for 15 minutes, then remove and transfer grapes to a plate.
While the grapes are roasting, in a small bowl, mix together the spices. Coat all sides of the turkey with the spice mixture, being sure to also, carefully, get some underneath the skin, as well.
In a large bowl, combine garlic, parsley and ½ cup of olive oil. Add the turkey into the bowl and apply the garlic and parsley mixture all over, including under the skin.
In the same pan you used earlier to roast the grapes, add shallots and celery to make a bed for the turkey. Season with kosher sea salt and drizzle a little extra virgin olive oil. Place turkey breast on top.
Position oven rack to the bottom third. Place the pan with the turkey breast in. Immediately lower heat down to 350 degrees F (from previous 450 degrees F.) Roast for 45 minutes or until turkey's internal temperature registers 165 degrees F and it's juices run clear (could be up to 1 hour.) If at some point during roasting, you notice turkey skin turning too dark, cover with foil and continue roasting.
At the very last 5 minutes of roasting the turkey, carefully add grapes back in the pan to warm through.
Remove from the oven, cover very loosely with foil and let the turkey rest undisturbed for 15 to 20 minutes before serving.
To carve, transfer turkey to a clean cutting board. Starting at the breast bone, and continue carving from there making sure to keep your knife close to ribs. Once the meat is off the bone, you can slice the breast crosswise into slices. Serve with the roasted grapes and vegetables.
Image