Garlic Parmesan Chicken Wings
Image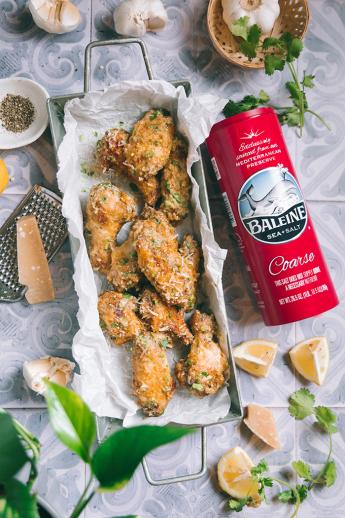 Image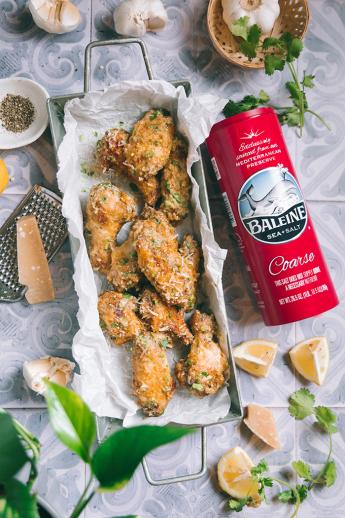 Ingredients :
12 chicken wings
2 teaspoons La Baleine Coarse Sea Salt
2 tablespoon cornstarch
2 teaspoons Freshly grated black pepper 
2 teaspoons paprika
5 roasted garlic cloves 
2 tablespoons finely chopped cilantro leaves 
2 fresh garlic cloves, grated 
1/3 cup grated parmesan cheese
1 stick room temperature softened butter
Oil to brush or spray on the wings. 
 
Instructions :
Preheat the airfryer to 400F 
In a bowl add the pat dried chicken wings. To that add half of the paprika powder, half of the salt, cornstarch and half of the freshly grated black pepper. Give a mix to coat the chicken wings all around. 
Spray or brush oil all around and cook in the preheated air fryer for 15 to 20 minutes. Turn the wings once in between. 
While the chicken cooks, in a big mixing bowl add the softened butter (not melted) add the garlic (roasted and fresh), rest of paprika powder, rest of the grated black pepper, salt and parmesan cheese. Mash everything to form a smooth paste like consistency. 
Once the chicken wings are done, drop the hot wings on the garlic parmesan butter and toss it around. The butter will start to melt and coat the wings all around. 
Enjoy warm!