Grilled Salt-and-Pepper Bass with Curry Verde
Image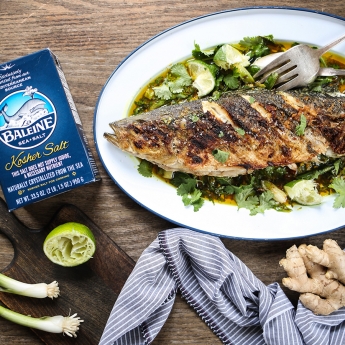 Image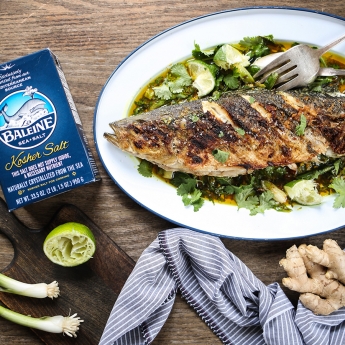 INGREDIENTS :
2 1½–2-lb. head-on sea bass or other whole fish, cleaned
8 scallions, 4 whole, 4 very thinly sliced
1 cup grapeseed or other neutral oil, divided, plus more for grill
1 Tbsp. vadouvan or other curry powder
1 green chile (such as serrano or jalapeño), finely chopped
1 1" piece ginger, peeled, finely grated
1 garlic clove, finely grated
1½ cups finely chopped cilantro, plus 1 cup leaves with tender stems
3 Tbsp. fresh lime juice, divided
La Baleine Kosher salt
Freshly ground black pepper
Lemon wedges (for serving)
Preparation
Prepare a grill for medium heat. Heat ½ cup oil in a small skillet over medium. Once oil is shimmering, stir in vadouvan and remove skillet from heat (it should foam a little). Let cool in pan.
Combine curry oil, chile, ginger, garlic, chopped cilantro, and 2 Tbsp. lime juice in a small bowl. Season curry verde with kosher salt and set aside.
Place fish on a cutting board and pat dry thoroughly with paper towels (inside and out). Using a sharp knife, make slashes crosswise on a diagonal along the body every 2" on both sides, cutting all the way down to the bones (this will help the fish cook evenly). Place fish and 4 whole scallions on a rimmed baking sheet; season fish generously inside and out with kosher salt and pepper. Drizzle fish and scallions with remaining ½ cup oil (this may seem like a lot, but it's the best way to prevent the fish from sticking to the grate).
Clean and oil grate, then immediately place fish and whole scallions on grill. Grill, turning scallions occasionally, until lightly charred all over, about 4 minutes. Transfer to a cutting board. Continue to grill fish, undisturbed, 8–10 minutes. Lift up slightly from one edge to see if skin is puffed and lightly charred and easily releases from grate. If fish is not ready, let it grill another minute or so, then try again. Once it releases easily, gently slide 2 large metal spatulas underneath and turn onto second side. Grill until the other side is lightly charred and skin is puffed, 8–10 minutes, depending on size of fish.
Finely chop grilled scallions and add to reserved curry verde.
Toss sliced scallions, cilantro leaves, and remaining 1 Tbsp. lime juice with a pinch of La Baleine kosher salt in a medium bowl.
Spoon curry verde on a platter and set fish on top. Scatter scallion mixture over and sprinkle with La Baleine  sea salt.