Kale and Sweet Potato Baked Eggs with Goat Cheese
Image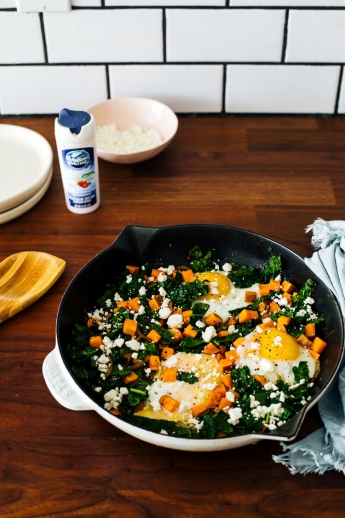 Image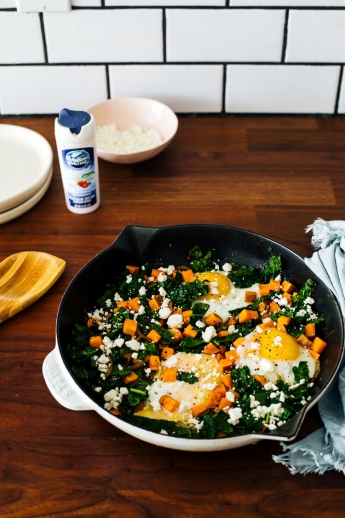 Ingredients (serves 2) : 
Olive oil
1 large sweet potato, chopped into small cubes
½ large onion, sliced thin
1 large bunch of lacinato kale, stems removed and sliced into thin ribbons
½ tsp La Baleine Essentiel, plus more to taste
Pepper
3 - 4 large eggs
¼ cup crumbled goat cheese or feta
Instructions
Preheat the oven to 400°F. Add the diced sweet potato to a large baking sheet and toss with olive oil, La Baleine Essentiel salt, and freshly ground pepper to taste. Roast in the oven for 20 minutes, tossing halfway through the cook time, until sweet potatoes are tender when poked with a fork.
While sweet potatoes are cooking, heat a large cast iron or other oven safe pan over medium heat. Add a little olive oil and then the onions. Saute until the onions are clear and soft. Remove to a bowl.
Add the kale to the same pan, adding a little more oil if needed. Saute until soft, and set aside in a separate bowl.
When sweet potatoes are finished, remove the pan from the oven. 
In your cast iron or oven safe pan, assemble the onions, kale, and sweet potato. Make a well for the eggs, and crack them in. Season with La Baleine Essentiel and pepper. Bake in the oven for 10 minutes or until egg whites are firm but yolks are still slightly runny. 
Top with goat cheese and serve immediately.