Salty "Palets Bretons"
Image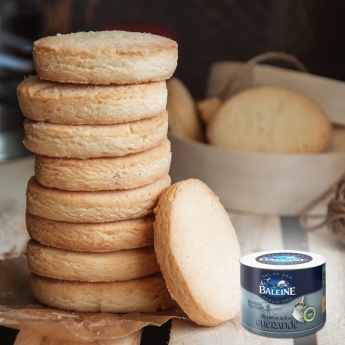 Image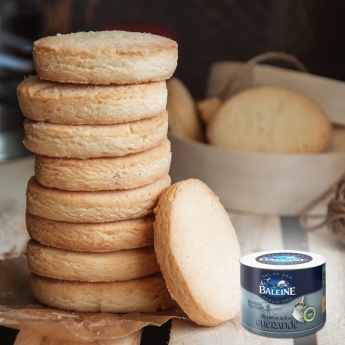 3/4 cup (1 1/2 sticks) unsalted butter, plus more for baking sheets
2/3 cup sugar
2 large egg yolks
Pinch of La Baleine Grey Sea Salt
1 teaspoon pure vanilla extract
2 cups all-purpose flour, plus more for work surface
1 large egg yolk, for brushing as needed
Sanding sugar, if desired
1. Line baking sheet with parchment paper or a nonstick baking mat; set aside.
2. Place butter and sugar in the bowl of a food processor; process until creamy. Add egg yolks, salt, and vanilla; process for 30 seconds until combined. Add 1 cup flour and process until smooth. Add remaining cup of flour to processor; process to combine. Turn dough out onto work surface and form into flat square; wrap with plastic wrap and transfer to refrigerator until chilled.
3. Place a nonstick baking mat on work surface. Place half of the chilled dough on baking mat; top with a sheet of plastic wrap. Roll out dough between baking mat and plastic wrap until it is 1/8-inch-thick. Transfer to fridge to chill until firm, about 30 minutes. Repeat process with remaining dough.
4. Using a 2-inch round fluted cookie cutter, cut out dough and transfer to prepared baking sheets. Transfer baking sheets to refrigerator until dough is chilled, about 20 minutes. Roll out scraps, and repeat. Repeat process with remaining dough. Transfer to refrigerator and chill until firm, about 30 minutes.
5. Preheat oven to 325 degrees.
6. Mix together remaining egg yolk with 1 teaspoon water; brush tops of cookies with egg white mixture. Sprinkle with sanding sugar, if desired. Transfer to oven. Bake until cookies are pale golden, 12 to 15 minutes. Transfer to a wire rack to cool.