Perfectly roasted potatoes
PREP TIME : 10 minutes - COOK TIME : 45 minutes - TOTAL TIME : 55 minutes - YIELD : 4 - 6 servings
Image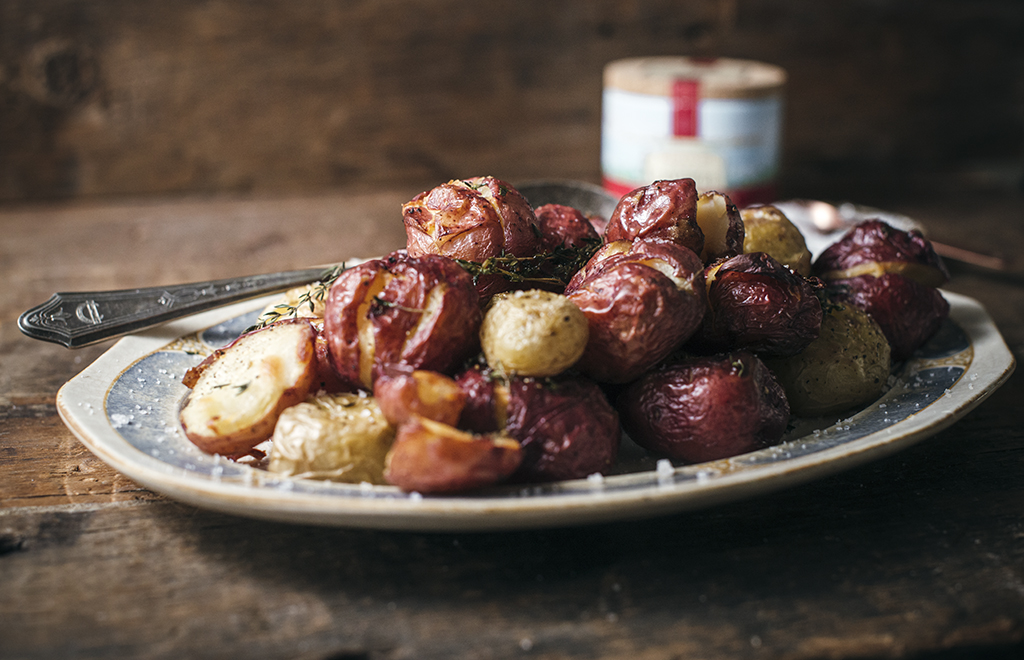 Ingredients :
2 pounds new potatoes
3 tablespoons olive oil
1 1/2 teaspoons salt
1 teaspoon ground black pepper
1 tablespoon fresh thyme
1 - 2 teaspoons Le Saunier de Camargue Fleur de Sel
Instructions :
Preheat oven to 400°F.

Wash and dry potatoes, make sure that potatoes are all about the same size, cutting in half if needed.

Place prepared potatoes in a large pot of lightly salted water and bring to a boil, turn heat to medium, and cooking potatoes for about 8 - 10 minutes. Potatoes should be just fork tender, add more time if needed. Drain and allow to steam dry for about 1 minute.

Spread out potatoes onto a baking sheet and with the back of a spoon, carefully press and smash the potatoes until they just break open and split, but not all the way through so that they aren't completely broken.

Drizzle the olive oil, lightly season with half of the Le Saunier de Camargue Fleur de Sel, black pepper, and thyme, tossing to coat.

Make sure the potatoes are spread out evenly and bake in the preheated 400°F oven for 30 - 45 minutes or until they start to turn golden on the edges.

Allow to cool for 3 - 5 minutes finish with the remaining Le Saunier de Camargue Fleur de Sel and serve.
Notes
You can also use 1 tsp of dried Rosemary and/or Thyme if preferred, or fresh rosemary roughly chopped.