Pesto Pasta
Prep time: 5 minutes   Cook time: 7-9 minutes   Yield: about 1 ½ cups pesto; serves 4-6
Image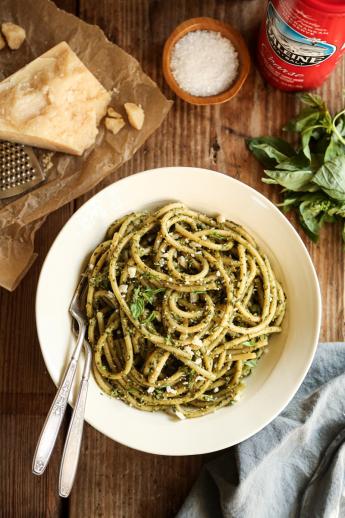 Image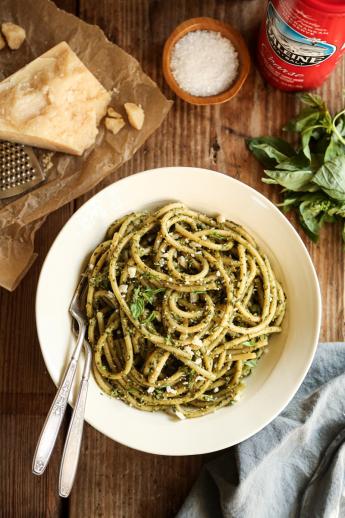 Ingredients: 
4 cups of fresh basil leaves + more for garnish
½ cup walnuts or pine nuts
¾ cup grated parmesan cheese + more for serving
2 cloves of garlic
1 teaspoon La Baleine Coarse Sea Salt + more for serving
Juice of ½ medium-size lemon 
1 cup olive oil 
1 pound pasta of your choice
Instructions :
Add the basil, nuts, cheese, garlic, sea salt + lemon juice to a food processor. Pulse a few times to start chopping up the mixture. Then, keep it running while you steadily add the oil in. Continue to blend just until it's mostly smooth, which should take no more than 60 seconds.
Cook your pasta in a large pot of boiling salted water, just until al dente, about 7-9 minutes depending on the type of pasta you use. Drain, reserving some of the pasta water to the side.
Toss the pasta with the pesto, gradually adding a little (about ¼ cup) of the pasta water at time, until a nice sauce has formed and the pasta is well coated. Season with additional La Baleine Coarse Sea Salt to taste. Serve topped with parmesan cheese and extra fresh basil.
NOTES
Pesto can be made ahead and stored in an airtight container, topped with a layer of olive oil (to prevent oxidation and browning), in the refrigerator until ready to use.