Pork Tenderloin salad with grilled veggies
Image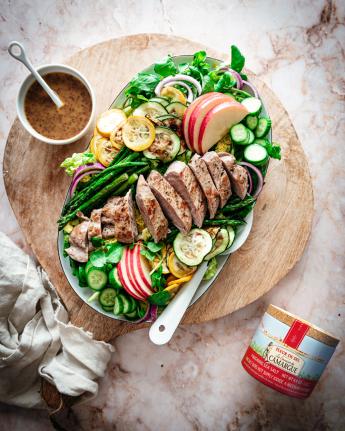 Image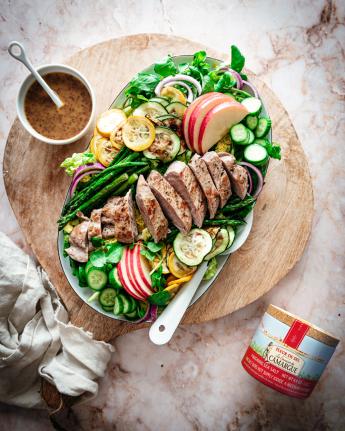 1 pork tenderloin in one piece (approx. 400g)

100g asparagus tips

1 Yellow courgette

½ green courgette

75g watercress

2 pieces baby romaine

1 red onion

½ apple

4-6 mini cucumbers

Oil, butter, pepper, fine sea salt and fleur de sel
Mild honey mustard sauce
 
2½ tbsp coarse mustard

2 tablespoons honey

2 tablespoons ginger syrup

1 tablespoon cream
Preparation
Preheat the oven to 200 degrees and preheat the contact grill/grill pan or BBQ.
Mix all the ingredients for the sauce together and set aside.
Generously sprinkle pepper and fine sea salt over the pork.
Heat a little oil in a frying pan and fry the pork loin for a few minutes until browned on all sides.
Remove the pan from the heat and place the pork in an ovenproof dish.
Put a piece of butter on the pork (about 1 tablespoon) and place it in the preheated oven for 10 minutes.
In the meantime, cut the courgette into thin slices. Spread a little olive oil over the courgette and asparagus tips. Season with pepper and fine sea salt. 
Grill the asparagus tips and courgette slices until done and they display nice grill marks.
After 10 minutes, remove the tenderloin from the oven and cover with aluminium foil so that it stays warm and can cook for a little longer.
Then divide the watercress over a large attractive dish. 
Cut the romaine into thin strips and place over the watercress.
Cut the apple into thin slices, the red onion into thin rings and the mini cucumber into thin slices.
Place this over the salad together with the grilled vegetables.
Cut the pork loin into slices and finally spread over the plate. Garnish to taste with some extra fleur de sel and serve with the sauce.