Poultry in salt crust
Image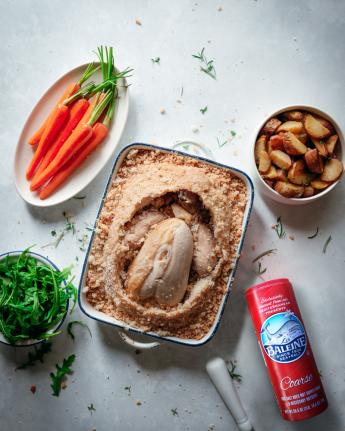 Image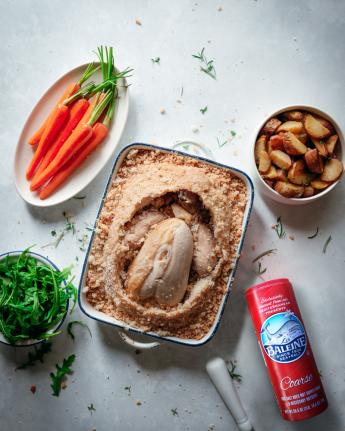 Ingredient

:
1 whole chicken

2 toes garlic 

3 twigs of thyme

Half a lemon, quartered

2 kilo coarse sea salt

4 egg whites

200 grams flour 
Instructions :
Preheat the oven to 200 degrees.
Skin the garlic and put it in the abdominal cavity of the chicken together with thyme and the lemon.
Take a large bowl and put the sea salt, egg whites and flour in it. Add little by little a few tablespoons of water until you have a very stiff mass of salt/clay.
Spread salt from the salt mixture over the bottom inside of a large baking form or roasting tray and lay out the whole chicken on it. 
Spread the rest of the salt over the chicken and completely pack the chicken. The chicken must be completely well-covered all over with salt. 
Put the chicken in the pre-heated oven and bake it for approximately 1½ hours.
Take the chicken out of the oven and let it stand for a few minutes. 
Then split it open with a mortar and/or a sharp knife. Remove the skin from the chicken (it will be very salty because of the crust). The chicken itself is extremely tender and lean in taste and totally not salty. Serve with potatoes, a salad and greens to taste.