Pumpkin tartiflette
4-6 people - Baking time: 25-30 minutes
Image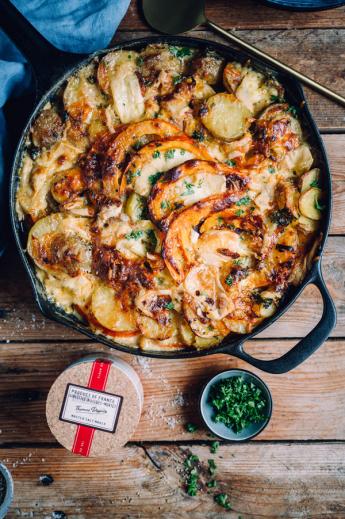 Image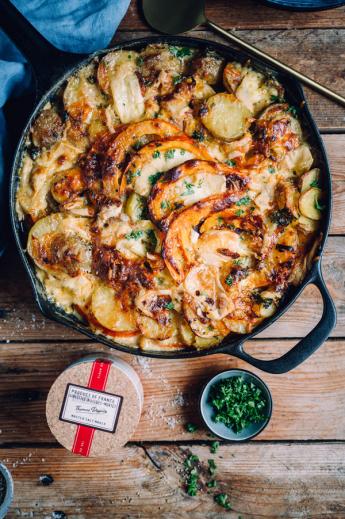 Ingredients : 
500 g potatoes
300 g Hokkaido pumpkin (approx. ½ pumpkin)
1 leek
1 red onion
1 clove of garlic
30 ml olive oil
1 tsp thyme
2 tsp fleur de sel
1 tsp black pepper
1 tsp nutmeg
1 tsp paprika powder
200 ml apple juice
2 tbsp fresh parsley
200 ml cream
100 g ger. Cheddar
200 g camembert
Preparation :
First, boil the potatoes until firm to the bite. To do this, place potatoes in a large pot, cover completely with water and add 1 teaspoon of Fleur de Sel. Simmer for about 20 minutes (depending on size). Allow to cool. Meanwhile, halve the Hokkaido, remove seeds and cut into thin slices. Cut leeks into thin pieces as well. Finely chop onions and garlic.
Heat olive oil in a pan. Sauté leeks, onions and garlic in it. Add the spices. Deglaze with apple juice and simmer briefly.
Preheat the oven to 200 °C convection oven. Cut the potatoes into thin slices. Pour some olive oil into a baking dish, spread half of the pumpkin slices and half of the potatoes on top. On top of the mixture, put half of the leek and onion mixture and sprinkle half of the cheddar. Cover with the potato slices and the pumpkin, sprinkle lightly with fleur des sel. Spread the leek and onion mixture on top as well as the cheddar. Chop the parsley and sprinkle on top. Pour over the cream. Cut the Camembert cheese into thin slices and spread on the casserole. Bake for 25-30 minutes until golden brown