Fish, potato and pea Clafoutis
Image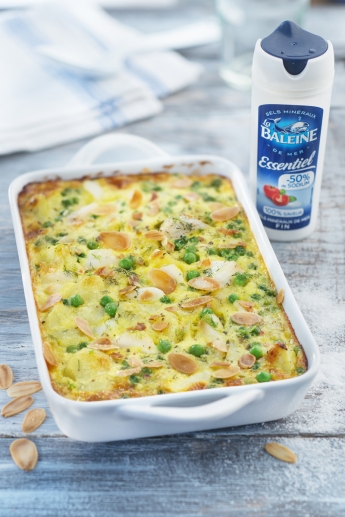 Image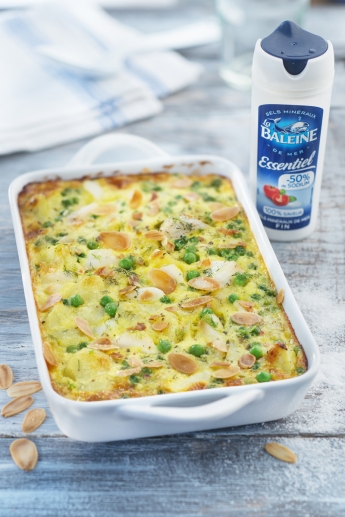 For 4 people 
Preparation time: 15 minutes
Cooking time: 25/30 minutes
3 firm potatoes
200g of coley fillet
100g of frozen peas
100g of sour cream
50g of grated parmesan
2 tbsp of olive oil
2 eggs
3 tbsp of dill
1 chopped clove of garlic
1 tsp of La Baleine Essentiel salt
Pepper
1 tbsp of chopped almonds
Pre-heat the oven to 160°.
Peel the potatoes, cut them up into chunks and steam them. Plunge the frozen peas into the boiling water for 5 minutes, then drain them.
Heat 1 litre of water or stock, cook the fish fillet for 5 minutes and drain it. Cut it into pieces, it will come away easily when cooked.
Place the steamed potatoes, peas, pieces of coley, chopped garlic, olive oil, salt, pepper and dill in a large bowl. Mix carefully so that all the ingredients are well coated with oil and condiments.
Pour the ingredients into an oven-proof dish. Whip up the eggs, sour cream and parmesan together and pour into the dish of vegetables and fish. Sprinkle with chopped almonds and pepper.
Place in the oven for 25 minutes. Remove from the oven and sprinkle with La Baleine Essentiel salt