Medaillons of Burbot on a pepper and tomato bed
Image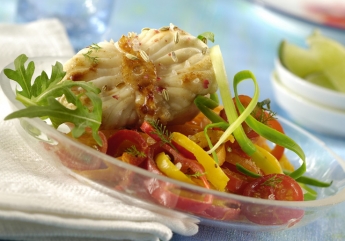 Image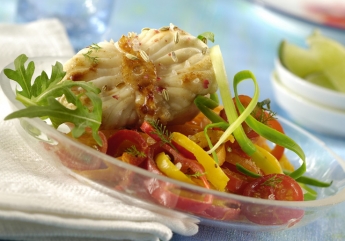 For 6 people :

1 Burbot of 800g
2 soup spoons of oil
1⁄2 glass of sweet white wine
A few seeds of fennel
1 small branch of dill
1 red pepper
1 orange pepper
1 onion cut into cubes ( or a spring onion sliced long ways)
2 crushed cloves of garlic
1 punnet of cherry tomatoes
1 soup spoon of Espelette piment
Sea Salt (coarse or fine) La Baleine
Pepper
1/ Preheat the oven grill
2/ Clean and dry the peppers
3/ Prick them with a fork and brown them in the oven under the grill for twenty minutes, turning them often
4/ The skin will become brown, take them out of the grill and remove the skin. Cut them in two, remove the pips and cut them in strips
5/ In a pan with a little oil start cooking the onion, the garlic, and the tomatoes. When the tomato juice has evaporated add the strips of grilled peppers.
6/ Let it simmer for ten minutes
7/ Cut the Burbot in medallions ( about 8 to 10 pieces)
8/ Heat the pan with 2 spoons of oil
9/ Brown the medallions. When they are golden, add the 1⁄2 glass of sweet white wine
10/ Add the peppers and the fennel seeds. Let it all simmer for 6 – 8 minutes. Sprinkle on the dill
11/ Serve the peppers and tomatoes equally on each plate, place a medallion on each plate and then sprinkle on the salt and the Espelette piment.
Serve hot.