Sage & Lemon Pan-Fried Pork Chops
Serves 4    Prep time 5 minutes     Cook time 18-20 minutes
Image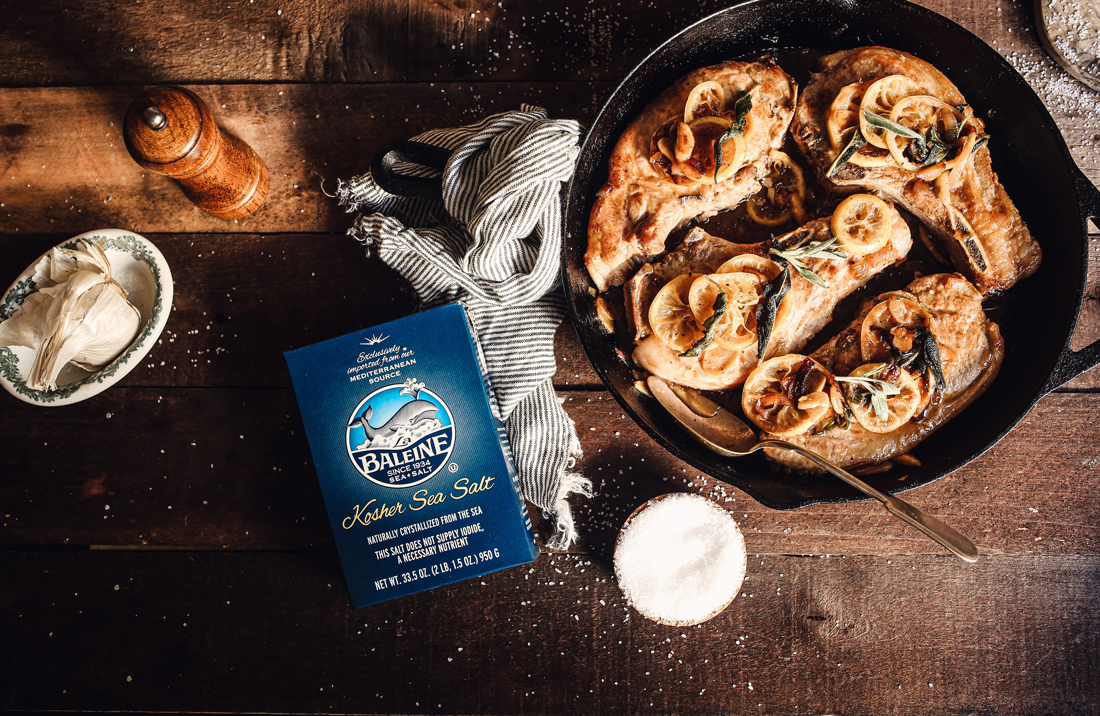 Ingredients :
2 tablespoons olive oil
4 pork chops, bone-in, 6-8 ounces each
La Baleine Kosher Sea Salt
4 cloves garlic, thinly sliced
1 shallot, diced
A large handful of fresh sage
1 large lemon (or 2 small ones), thinly sliced
2 tablespoons butter
Juice of 1 large lemon, or 2 small lemons
Instructions :
Heat a large cast iron skillet on a medium-high burner. While it's heating, generously rub both sides of the pork chops with La Baleine Kosher Sea Salt. Place in the heated skillet. Cook for 4 minutes, then flip over and cook for another 4 minutes. Remove the pork chops to a dish and set aside.
Meanwhile, turn the heat down to medium and toss the garlic and shallot into the skillet. Cook for 60 seconds, then stir in the sage. Cook for 30 more seconds before adding in the lemon slices. Continue cooking, stir occasionally and gently so as not to break the lemon slices, for 2-3 minutes,or until some of the liquid has cooked down. Stir in the butter and once it's melted, add the pork chops back in. Pour the lemon juice over the top, cook for 2 minutes, then flip the pork chops and cook another 2-3 minutes, or until a meat thermometer inserted in the pork chops reaches 135°F. 
Plate the pork chops and top with the lemon slices, sage and juices from the pan. Enjoy!