Salmon Baked in Parchment
Preparation: 5 Minutes - Difficulty: Easy - Cook time: 14 Minutes - Servings: 1 Servings
Image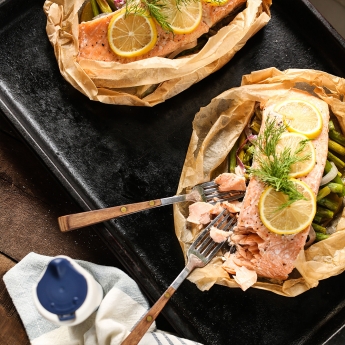 Image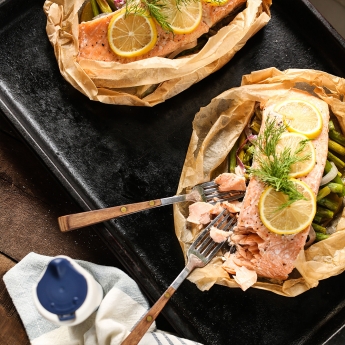 Ingredients : 
1/2 Potato, Very Thinly Sliced
8 stalks Asparagus, Trimmed, Each Stalk Cut In Half
1 Tablespoon Thinly Sliced Red Onion
6 ounces, weight Center Cut Salmon Fillet
2 teaspoons Olive Oil
3 slices (thin) Lemon
La Baleine Essentiel Salt
Black Pepper
Preparation
Image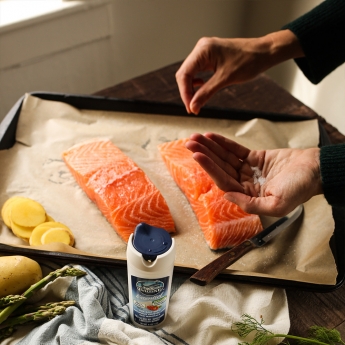 Preheat oven to 375ºF. Prepare a large oval of parchment paper and fold it in half.

Place thinly sliced pieces of potato on the bottom half of the parchment. Add asparagus pieces and red onion slices. Drizzle 1 teaspoon of olive oil and then sprinkle with La Baleine Essentiel salt and a little fresh chopped parsley.

Place salmon fillet on the vegetables. Drizzle salmon with the remaining teaspoon olive oil and sprinkle with La Baleine Essentiel salt and black pepper. Top with lemon slices and thyme leaves.

Fold the parchment paper over starting at one corner and pinch the edges over to close the packet. When the edges are completely closed, it will look like a calzone!

Bake the fish for 14 minutes on the center rack in the oven, and then remove and unwrap or cut the top of the packet and serve in the paper. Serve immediately.
Image