Salmon steak, cream infused with garlic and button mushrooms
4 people | 15 minutes of preparation & 15 minutes of cooking
Image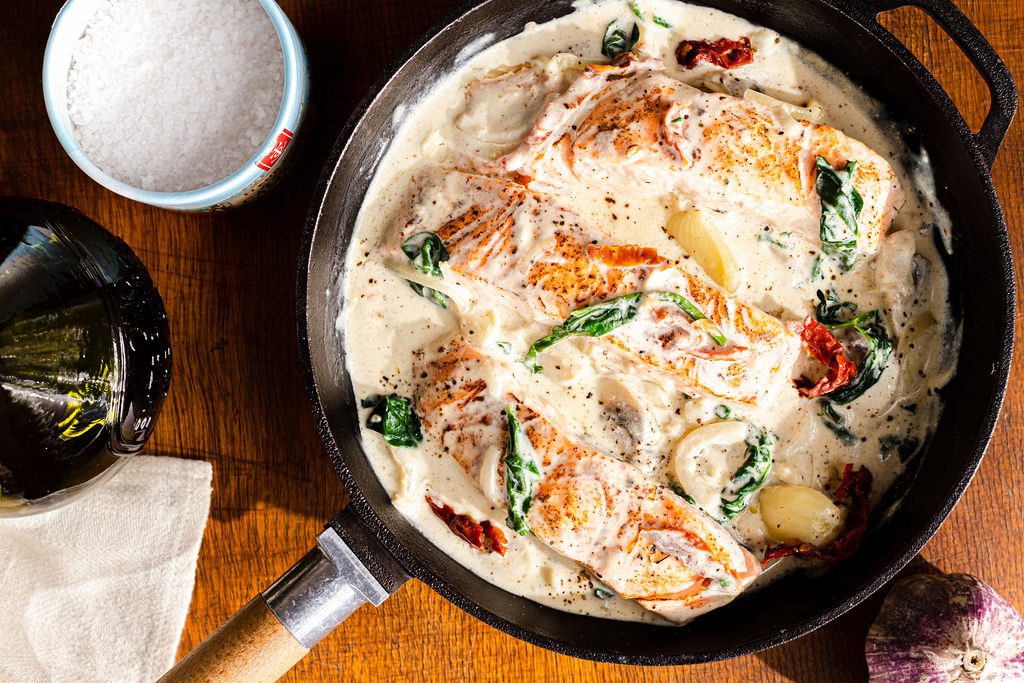 Ingredients :
• 4 salmon steaks
• 25 cl whole cream
• 5 cloves of garlic
• 8 button mushrooms, cut in 4
• 1⁄2 onion, very finely chopped
• 10 g butter
• 1⁄2 glass of white wine
• 20 g fresh spinach
• 4 dried tomatoes
• Le Saunier de Camargue fleur de sel
Instructions :
1 . Blanch the cloves of garlic: In a small saucepan, place the cloves in a small volume of cold water and bring to the
boil. Repeat the operation a second time. Reduce the cloves of garlic to purée with a knife.
2 . In a large skillet with high edge, brown onion and mushrooms with butter. Add the white wine and let it reduce
until it is almost dry.
3 . Then add cream, garlic puree, spinach and dried tomatoes. Reduce for 3 minutes, then add the salmon steaks. Cook
over low heat for 4 to 5 minutes.
4 . Season with Le Saunier de Camargue fleur de sel.