Salt Crusted Steak
Total: 35 mins - Prep: 20 mins - Cook: 15 mins - Yield: 2 steaks (serves 2)
Image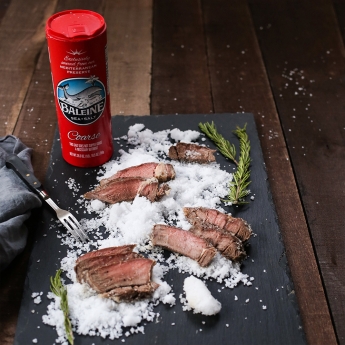 Image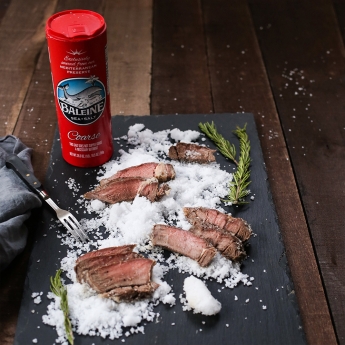 Ingredients : 
2 steaks (any cut, Rib-eye steak recommended)
2 cups / 475 milliliters La Baleine Coarse sea salt 
 
Preparation
Image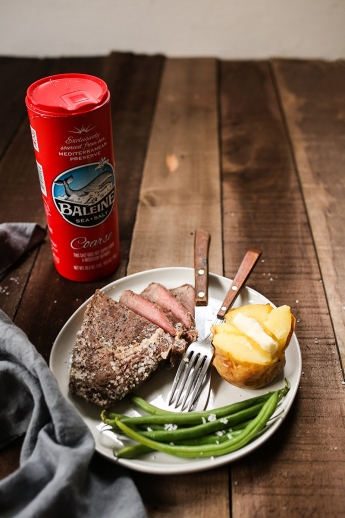 Mix salt with enough water (about 3/4 cup) to make it into a paste, but not runny.
Pack the salt paste firmly on the top of the steak and place on the grill, salt side up.
When the salt starts to turn brown, gently turn the steak over and pack salt on that side. Some salt may fall off through the grill. You don't have to replace it.
Cook the steak as you normally would. You won't be able to feel the steak for doneness, so you may wish to use a meat thermometer.
Remove from grill when it's just the way you like it and break off the salt. One good way to do this is to turn the stead on its side and give it a blow with the back of a kitchen knife.
Allow the steak to rest for 5 minutes before slicing and serving.
Look for these readings, with approximate time on the grill for a 1-inch thick New York steak:
Rare: 125 F, 8 to 10 minutes
Medium Rare: 130 F, 9 to 11 minutes
Medium: 140 F, 10 to 12 minutes
Medium Well: 160 F, 12 to 14 minutes
Image