Salted brown butter & toffee cookies
Prep time:  20 minutes    Cook time: 12-16 minutes      Yield: 18-20  3 ½" - 4" cookies
Ingredients :
1 cup unsalted butter
1 cup dark or light brown sugar
⅓ cup granulated sugar
2 large eggs
2 teaspoons vanilla extract
2 cups all-purpose flour
1 teaspoon baking soda
½ teaspoon La Baleine fine sea salt
8 ounces toffee bits + more for sprinkling on top (optional)
Le Saunier de Camargue Fleur de Sel, for garnish
Instructions :
Image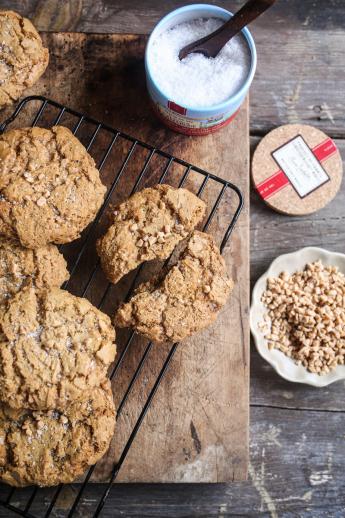 Image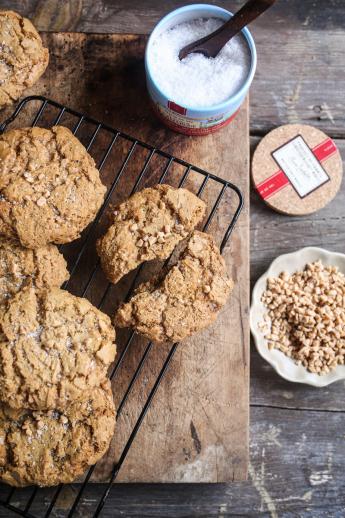 In a saucepan, melt the butter over medium-low heat, swirling the pan occasionally, until it starts to bubble. Continue cooking for 5-7 minutes, or until the butter smells nutty and is amber colored with dark flecks at the bottom of the pan. Remove from the heat and set aside to cool.
Once the butter has cooled to room temperature, combine it, along with the brown and granulated sugars in the bowl of a stand mixer. Beat on medium speed 1-2 minutes, or until creamy.  Add in the eggs and vanilla and continue beating another 1-2 minutes, or until the mixture is well-incorporated and fluffy, stopping half way through to scrape down the sides of the bowl.
Add in the flour, baking soda and salt and use a rubber spatula to fold the dry ingredients in by hand. When they're almost fully mixed in, but not quite, add the toffee bits and fold in just until combined, being sure not to overmix.
Line a baking sheet with parchment paper. Use a 4-inch cookie scoop or ice-cream scoop (or ¼ cup measuring cup) to scoop the dough into balls, placing them on the prepared baking sheet. Cover loosely with plastic wrap and transfer the tray to the refrigerator for at least 30-60 minutes.
When you're ready to bake the cookies, preheat oven to 375°F. Line a baking sheet with parchment paper. Place the cookies about 3" apart (you should be able to cook 6 per tray). If you want, you can sprinkle additional toffee pieces on top, but it isn't necessary. Bake for 12-16 minutes, or until the edges are golden brown and the center has started to set. It's ok if the cookies look slightly underbaked as they'll finish setting while they cool.
Sprinkle the cookies generously with Le Saunier de Camargue Fleur de Sel as soon as they come out of the oven.Then allow the cookies to cool until they're fully set and firm, at least 20 minutes, before enjoying! Leftover cookies can be stored in an airtight container for up to 2 days.
NOTES
You can use salted butter instead of unsalted. Just be sure to omit the additional ½ teaspoon La Baleine fine sea salt if you do use salted butter.

For a cookie that is slightly cakier, add an additional ½ cup of all-purpose flour + ½ teaspoon baking powder when you mix in the dry ingredients.

For a variation, you can add in ¾ cup chocolate chips or chunks when you add in the toffee bits.

You can keep the cookie dough balls in the refrigerator for 5-7 days, before baking them. Just remove them from the refrigerator about 30 minutes before placing them in the oven or they may take an additional 5-10 minutes to bake (depending on how long they've been in the refrigerator and how hard they are).

If you don't have a 4" cookie scoop, you can make the cookies smaller. However, do note that the cookies might not have quite the same crispiness as a larger cookie. Also, be sure to bake them about 2-3 minutes less than the larger cookies.