Salted caramel ice cream
Ingredients :
Image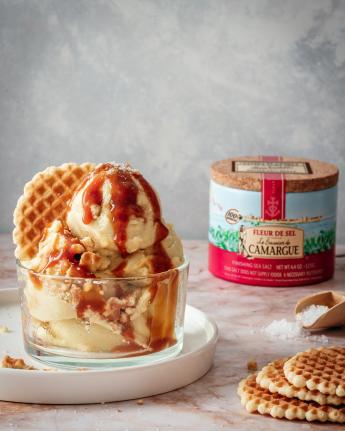 Image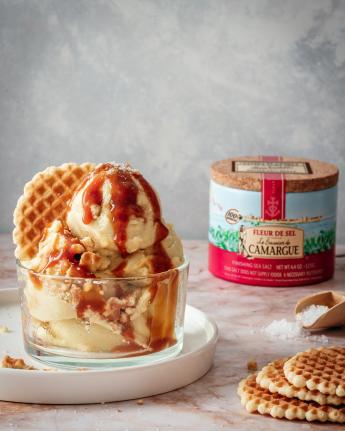 Quantity: approx. 8 servings
For the ice cream:
500 ml whipped cream (not beaten)

250 grams of cream cheese (natural, e.g. Philadelphia)

250 ml whole milk

200 grams of sugar

1 teaspoon vanilla extract
Voor de caramel saus:
125 grams of sugar

60 ml water

50 grams butter (unsalted)

75 ml whipped cream

Fleur de Sel from Le Saunier de Camargue  
Extra:
Instructions :
Image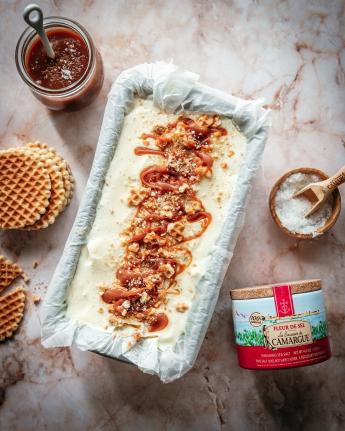 How to prepare:
Start by making the caramel sauce so that it can cool down well (you can also make this a day in advance). 
Take a thick-bottomed saucepan and put the sugar and water in it and leave it on a low heat (don't stir!) until you get a nice brown/amber colour.
Then add the butter and stir it gently until it has melted.
Remove the pan from the heat, add the whipping cream (be careful, it might bubble). 
Let the caramel sauce cool down and add Fleur de Sel of Le Saunier de Camargue to taste.
To make the ice cream, mix all the ingredients together in a blender or food processor so that you can immediately whip up the cream. Beat until you have a lumpy consistency.
Then put the ice cream mixture into the ice cream maker and turn it into ice cream in about 45-60 minutes (time may vary depending on the ice cream maker). Tip: add 1 or 2 tablespoons of caramel sauce to the ice cream mixture for an extra intense caramel flavour.
Now take a container that can be placed in the freezer and divide ⅓ of the ice cream mixture across the bottom. Then crumble a few galette wafers on top and spread some of the (cooled) caramel sauce. Then add another ⅓ part of the ice cream, crumbled wafers and the caramel sauce. Then the last layer of ice cream and on top of that one last bit of caramel sauce and pieces of galette wafers.
Put the whole thing in the freezer to set further. Remove from the fridge about 15 minutes before serving.
Image