Salted Caramel, Pecan and Chocolate Pie
Prep time:  15  minutes   Cook time:  10  minutes     Yields: one 9" pie
Image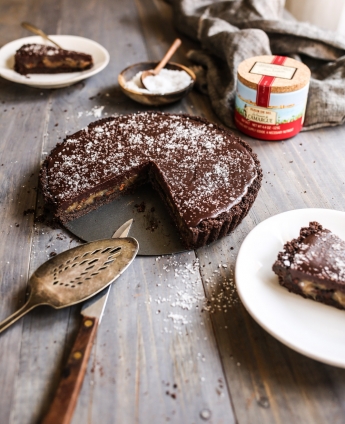 Image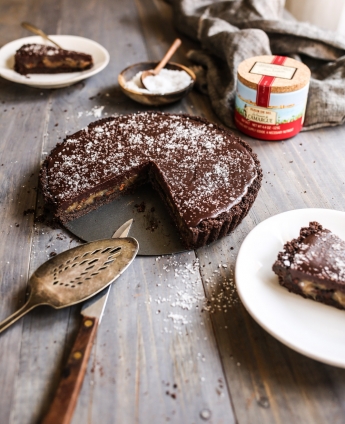 Ingredients: 
2 cups chocolate graham cracker or chocolate wafer cookie crumbs
1 cup unsalted butter, ½ cup melted and cooled
⅔ cup brown sugar
1 teaspoon vanilla extract
Pinch of La Baleine Fine Sea Salt
1 ¼ cups heavy cream
½ cup roughly chopped pecans, lightly toasted
1 ½ cups of dark chocolate chips or chopped dark chocolate
La Baleine Fleur de Sel
Instructions
1) In a large mixing bowl, stir together the chocolate cracker or wafer crumbs with the ½ cup of melted butter until well combined. Firmly press the crumb mixture into the bottom and sides of a 9" tart pan. Place in the freezer for 10-15 minutes, or until set.
2) Meanwhile, in a medium saucepan, set over medium heat, combine the remaining ½ cup of butter with the brown sugar. Cook, whisking constantly, until the mixture begins to thicken and bubble. Continue cooking and whisking for 1 more minute. Remove the pan from the heat and whisk in the vanilla extract and the pinch of La Baleine Fine Sea Salt, before slowly mixing in ¼ cup of the cream. Whisk until fully incorporated and smooth. Stir in the pecans and set aside to cool for 10 minutes.
3) Pour the caramel pecan mixture into the crust, then return the pan to the freezer for another 30 minutes.
4) Meanwhile, in a small saucepan, set over low heat, add the remaining 1 cup of cream and the chocolate. Stir constantly until the chocolate has melted and the mixture is smooth and silky. Allow to cool for a few minutes, then pour over the caramel layer. Cover and refrigerate, until set, about 45-60 minutes.
5) Just before serving, sprinkle the pie generously with La Baleine Fleur de Sel. Slice and enjoy!