Salted caramels
Image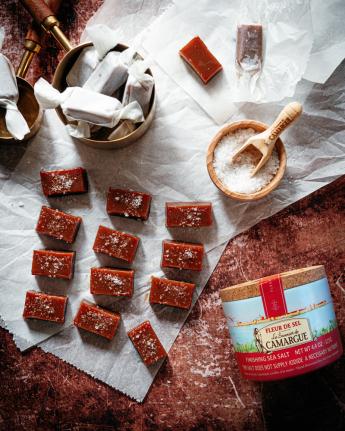 Image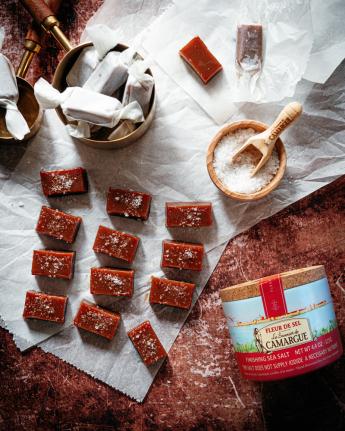 Ingredients:
400g sugar

100g honey

75ml water

250g of butter (unsalted)

200ml whipped cream

Fleur de sel
Extra: baking pan 25 x 25cm covered in baking paper
Preparation
Take a thick-bottomed saucepan.
Add the sugar, honey and water until the sugar has dissolved. Be careful not to stir (!), but you can move the pan back and forth.
Make sure that the temperature of the mixture reaches 160 degrees (this really takes a while). Keep moving the pan gently (!) back and forth every now and then so that it colours evenly.
Remove the pan from the heat and add the butter in cubes until it has melted. Now you can start whisking.
When the butter has melted, add the cream and whisk.
Put the pan back on the heat until you reach a temperature of 120-122 degrees (this can also take a bit of time). Then pour the caramel into the baking tin, sprinkle with fleur de sel and leave to cool completely in the fridge. Then cut it into pieces with a sharp knife. Wrap the caramel sweets in a piece of baking paper and keep them in the fridge.