Seared Tuna Niçoise Salad
Servings: 6 - Prep Time : 26 mins - Cook Time : 4 mins - Total Time : 30 mins
Image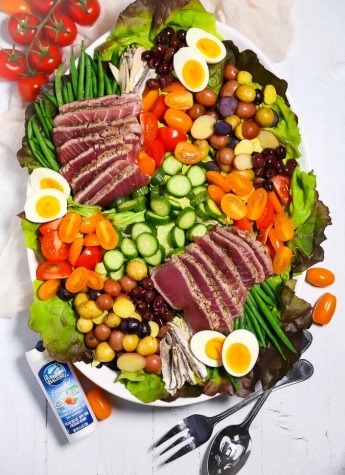 Image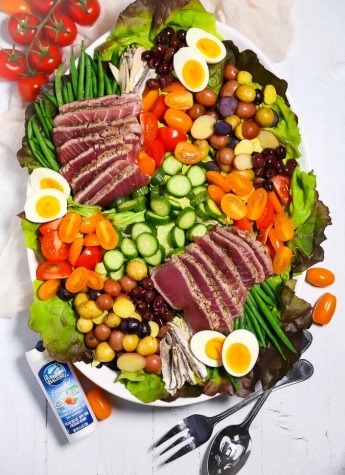 Ingredients : 
Seared Tuna
2 lbs tuna steak (2 thick steaks)
1 Tbsp extra virgin olive oil (+ more for the pan)
2 tsp La Baleine Fine Sea Salt
2 tsp La Baleine Coarse Sea Salt
2 tsp freshly ground black pepper
Nicoise Salad
1 head butter or Boston lettuce
1 lb baby potatoes, halved and boiled until fork tender
8 oz haricot verts, trimmed and blanched
2 cups cucumbers, sliced (I recommend baby cucumbers)
1 pint cherry or grape tomatoes, halved (dry pint)
3 oz anchovies
1/2 cup nicoise olives (oil cured olives can be substitued)
3 large eggs, hardboiled, peeled and sliced lengthwise
La Baleine Essential Salt, for seasoning
Mustard Vinaigrette
2 Tbsp dijon mustard
3 Tbsp sherry vinegar
½ tsp garlic powder
½ tsp La Baleine Essential Salt
¼ tsp freshly ground black pepper
1/3 cup extra virgin olive oil
Instructions
Seared Tuna
Rub the tuna steaks with oilve oil. Combine the salts and pepper and rub onto both sides of the tuna.
Drizzle a little more oil into a nonstick pan set over high heat. Place the tuna in the pan and sear on both sides, about 2 mins per side depending on the thickness of your tuna. I recommend very rare for this recipe.
Remove the tuna to a cutting board and slice very thinly, ACROSS the grain.
Mustard Vinaigrette
Whisk together all the ingredients except the olive oil. Add the olive oil in a slow, steady stream while continually whisking. (Alternatively blend in a mini prep food processor until emulsified.)
Nicoise Salad
Toss the warm potatoes with 2 Tbsp of the dressing and let stand.
Arrange the lettuce leaves on a large serving platter in a single, overlapping layer.
Arrange the ingredients over the lettuce in clusters in the following order: potatoes, haricot verts, cucumbers, tomatoes, anchovies, sliced seared tuna, olives, and hard boiled egg halves.
Season with salt and serve with dressing.