Spice Roasted Veggies with Spiced Labneh
Image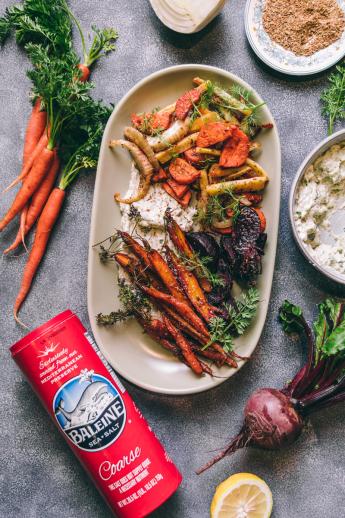 Image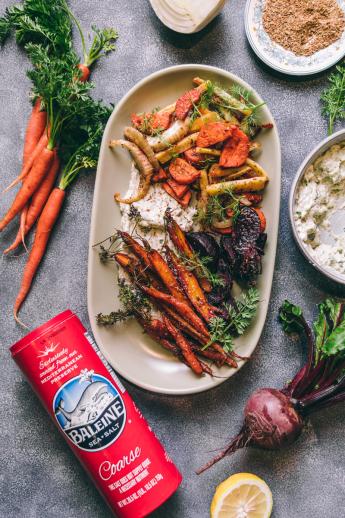 Ingredients & Preparation :
Preparing the Labneh - > Previous night place 1 cup plain Greek yogurt on a muslin cloth. Tie the edges and squeeze out excess water. Then leave the muslin cloth tied and place the bowl in the fridge to strain out all the water. 
For the spice mix - > dry roast 1 tablespoon cumin seeds, 1 tablespoon coriander seed and 1 tablespoon fennel seed. Then grind it with 1 tablespoon La Baleine Coarse Sea Salt. You can use a coffee grinder too to make the spice mix. 
Root Vegetables -> Carrots, Beetroots, Parsnip, Fennel Bulb and Sweet Potato. Chop the veggie as per your liking and layer on a baking sheet. Trim the end of a garlic head and place that along with the veggies.
Instructions :
Preheat oven to 400 F.
Drizzle oil on the veggies and sprinkle half of the spice mix. Bake for 20 minutes, then stir it around and bake for 15 minutes. 
Take the hung/strained yogurt to a bowl. 
Grind the remining spice mix with little oil, La Baleine Coarse Sea Salt, the roasted garlic and greens from the carrot tops and fennel leaves. (If you don't have the greens, it's fine). 
Add this mixture to the labneh and mix it around. 
Plate the dish by spreading a layer of spiced labneh and top it with the roasted veggie. 
Enjoy warm!