Tomato Tarte Tatin
Prep time:  10  minutes   Cook time:  31-33  minutes     Serves: 4
Image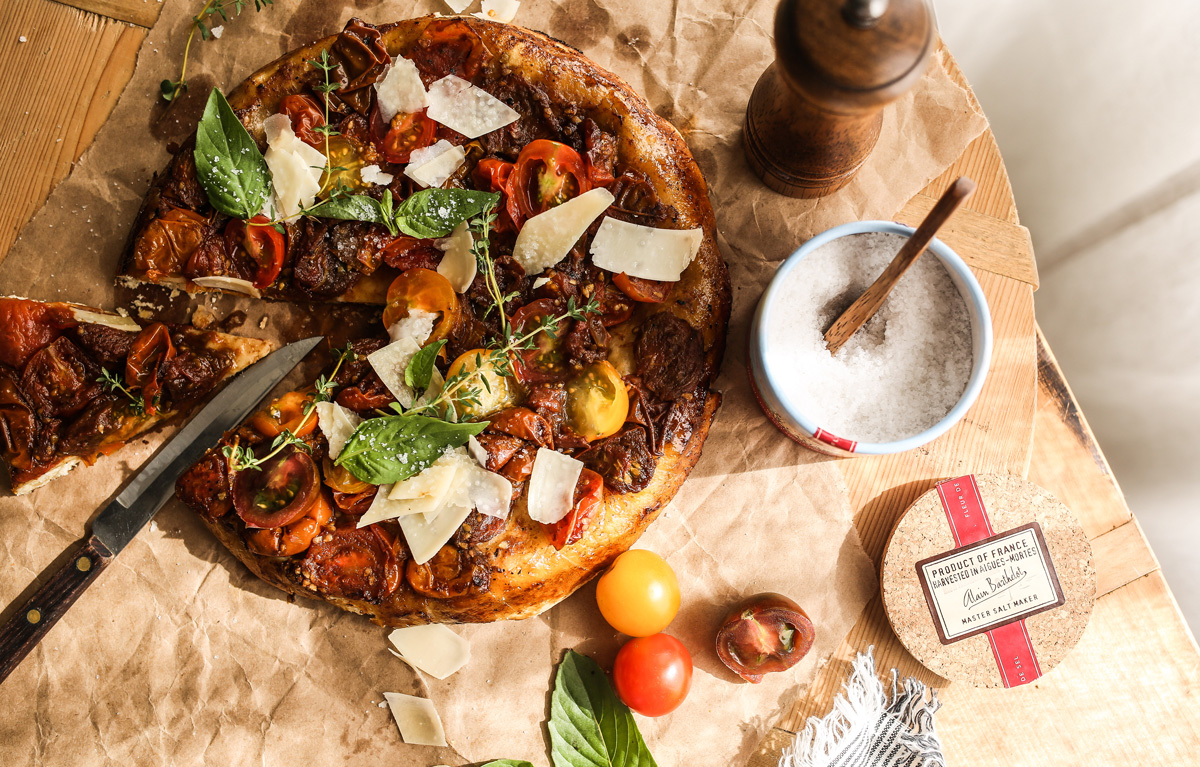 Ingredients :
2 cups all-purpose flour
1 pinch of La Baleine Fine Sea Salt
½ cup unsalted butter, cut into small pieces
1 egg yolk, lightly beaten
4 tablespoons cold water
1 ½ cups cherry tomatoes, sliced in half
1 tablespoons granulated sugar
2 tablespoon balsamic vinegar
La Baleine Fleur De Sel
Parmesan shavings
Fresh basil
Instructions :
1) In a large bowl, combine the flour, salt and butter and use your fingers to work the mixture into a coarse texture. Make a well in the center of the flour mixture and pour in the egg yolk and water. Continue working and kneading the dough with your hands until everything is well combined. Form the mixture into a ball, wrap in parchment paper and place in the refrigerator for 30 minutes.
2) Meanwhile, in a 9-inch cast iron, or ovenproof, skillet, set on a medium heat burner, stir together the sugar and balsamic vinegar, cooking the mixture until it begins to bubble and thicken, about 1 minute. Toss in the cherry tomatoes and continue cooking, stirring occasionally, until the tomatoes have slightly cooked down, about 5-7 minutes. Remove the pan from the heat.
3) Preheat the oven to 400 degrees.
4) Remove the dough from the refrigerator and gently roll it out into a circle that is slightly larger than the diameter of the skillet. Place the dough over the tomatoes, carefully folding over any excess dough and sealing in the edges. Prick with a knife or fork and bake for 25 minutes, or just until the top is golden brown. Remove from the oven and gently run a knife along the edge of the pan before flipping the tarte onto a serving dish. Garnish with a generous sprinkle of La Baleine Fleur de Sel, parmesan cheese and fresh basil. Serve immediately.