Veggie Stuffed Acorn Squash
Prep time: 20 minutes  -  Cook time: 45 minutes  -   Serves: 4
Image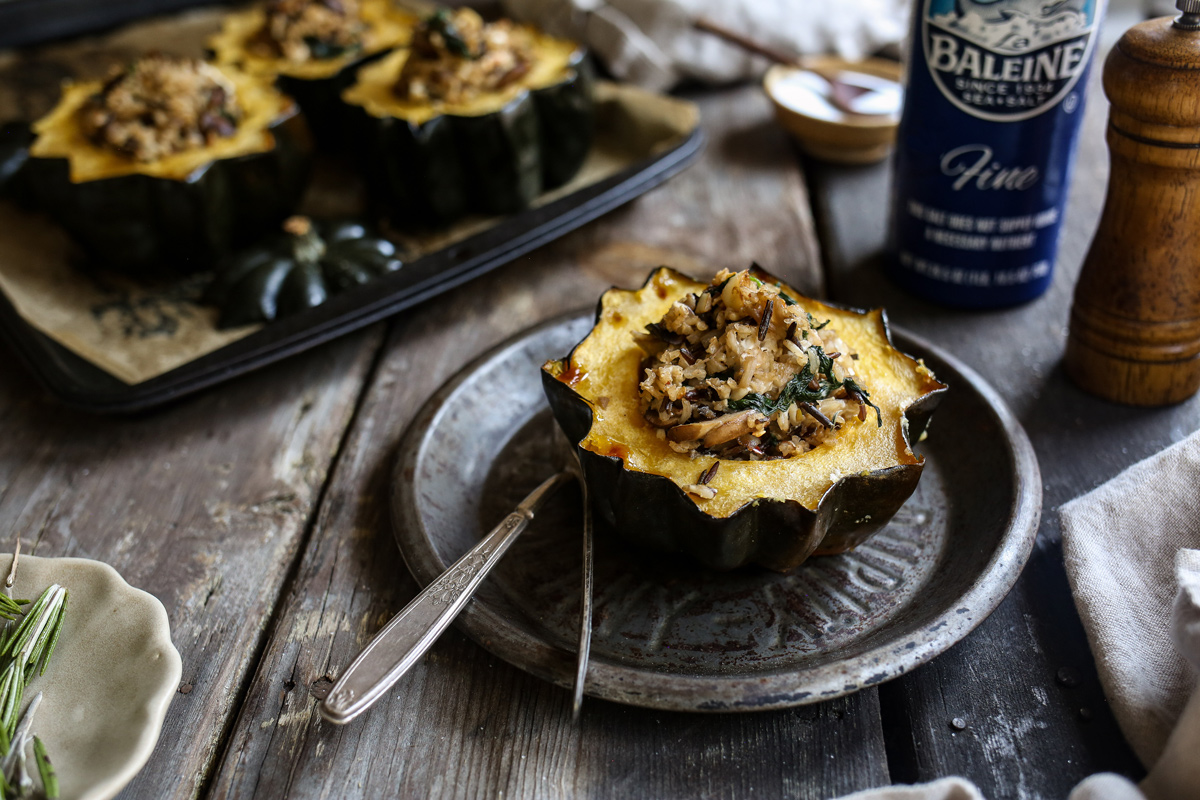 Ingredients :
2 cups water (or broth, for additional flavor)
⅔ cup wild rice, brown rice or a mix
1 ½ teaspoons La Baleine Fine Sea Salt
2 large acorn squash
2 tablespoons olive oil
1 large shallot, minced
3 garlic cloves, minced
1 cup thinly sliced mushrooms
4 ounces fresh spinach
¼ teaspoon fresh ground pepper
1 teaspoon chili pepper flakes (can be omitted for a milder flavor)
2 tablespoons chopped fresh herbs (either thyme, rosemary or sage, or a mix)
3 ounces goat cheese
Instructions :
Add the water (or broth), rice and ¾ of a teaspoon of La Baleine Fine Sea Salt to a medium saucepan. Place on high heat and bring to a boil. Then reduce the heat, cover and simmer, stirring occasionally and adding more liquid as necessary, until the rice is cooked, about 35-40 minutes. Remove from the heat and allow to rest for 10 minutes before fluffing with a fork.
Meanwhile, preheat the oven to 425 degrees. Line a baking sheet with parchment paper and set aside.
Prep the squash by slicing off the ends, then cutting each squash in half. Scoop out and remove the seeds. 
Place the squash halves, open side up, on the baking sheet. Generously coat with olive oil, being sure to get insides as well as the bottoms covered. Then sprinkle generously with La Baleine Fine Sea Salt. Bake for 35-40 minutes, or until they start to turn golden brown around the top/edges and they're soft enough to easily be pierced by a fork or knife. 
While the squash is roasting and the rice is cooking, prep the filling. Heat the olive oil in a large skillet over medium heat. Once hot, add the shallot, garlic and mushrooms. Saute for 3-4 minutes, stirring frequently, until the mixture has turned golden brown and cooked through. Add the spinach and continue to cook and stir until the spinach has cooked down, about 2-3 minutes. Mix in the remaining ¾ teaspoon La Baleine Fine Sea Salt, the pepper, and pepper flakes. Remove from the heat and stir in 2 cups of the cooked rice (you may have a little extra rice leftover, feel free to enjoy it on the side), the fresh herbs and the goat cheese.
Divide the mixture among the roasted squash halves. Place back in the oven for 5 minutes, then serve.